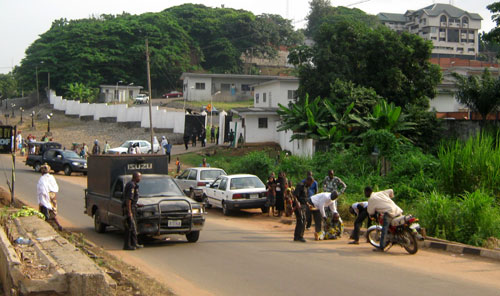 A bullion van driving from opposite direction this evening in Isale-Igbein area, Abeokuta, Ogun state capital, hit a middle aged man and broke his legs instantly.
The incident occurred at about 6.06 pm a few meters away from the Ogun State Government House and a bank where the bullion was heading to.
Our correspondent who was at the scene of the incident reports that the bullion van with registration number AX 737 KJA was trying to avoid the road leading to Isale Igbehin because of traffic jam.
The driver diverted to other opposite side to drive against the traffic in order to beat the gridlock. He was on a top speed and rammed into the unsuspecting man who wanted to cross the road.
Immediately after the accident, the victim was dragged to the road side by two of the escort policemen and they zoomed off.
While the abandoned injured man was writhing in pains, sympathisers started raining curses on the bullion driver.
A few minutes later, a black saloon car with registration number EQ 619 LSR, arrived the scene with four men including a policeman and hurriedly picked the injured man who was groaning in pains and zoomed off to an undisclosed location.
Efforts to get the man's identity proved futile as the injured man was in great pains and could not utter any statement. His personal belongings including a Bible, handset and a medicated ointment were on the roadside.
By Abiodun Onafuye/Abeokuta

Load more