President Goodluck Jonathan on Tuesday set the 2015 date for steady power supply and self sufficiency in rice production, arguably the most popular staple food across the country. Nigeria currently spends billions of naira every year to import rice from countries across the world.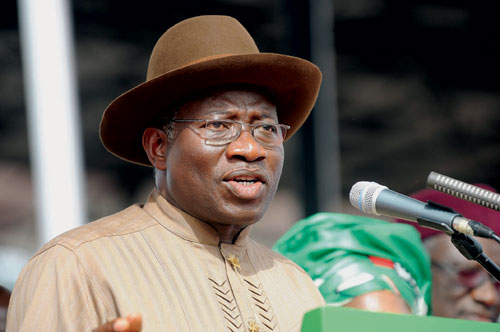 Speaking at an audience with members of the Board of the Niger Delta Power Holding Company led by Vice President Namadi Sambo in Abuja on Tuesday, President Jonathan that his Administration remains fully committed to the attainment of uninterrupted power supply in Nigeria before the end of its tenure in 2015. He added that the Federal Government is mindful of importance of steady power supply to national development, and would therefore do everything possible to ensure that all its plans and projects to guarantee stable power supply are successfully implemented.
"We all know the importance of power. We look forward to a time when Nigerians can enjoy uninterrupted power supply from the beginning to the end of a year and we are working hard to ensure that that objective is attained within the life-span of this Administration," President Jonathan said.
The President urged members of the board and management of the Niger Delta Power Holding Company to ensure that the company, which was established to oversee the implementation of National Integrated Power Projects (NIPP) funded by the three tiers of government in the country, contributes very effectively to meeting the country's power supply needs.
Vice President Sambo who chairs the board of the company assured President Jonathan that it will deliver all the medium-sized gas-fired NIPP power generating stations, as well as associated transmission projects on schedule to ensure that the Jonathan Administration's promise of steady power supply is fulfilled.
"We will work relentlessly to fulfill our mandate on time," he assured President Jonathan, while thanking him for receiving members of the board.
The Secretary to the Government of the Federation, Governors of Benue, Delta and Ekiti States, as well as ministers of Power, Petroleum and Justices were present at the meeting.
President Jonathan also declared on Tuesday in Abuja that the attainment of self-sufficiency in rice production by Nigeria is a top priority of his administration.
Speaking at a meeting with the President of the International Fund for Agricultural Development (IFAD), Dr. Kanayo Nwanze, Jonathan said that domestic self-sufficiency in rice production was one of the major assignments he has given to the new Minister of Agriculture, Dr. Akinwunmi Adesina.
"Before we leave office in 2015, we must stop the importation of rice to Nigeria. There is no reason why Nigeria should be importing rice. We have all that is needed to grow enough for domestic consumption and have a surplus we can export to other countries," President Jonathan said.
Noting that his Administration had given agricultural development the highest possible priority in its Agenda for National Transformation because of its vital importance, the President said that the Federal Government will welcome increased support and assistance from IFAD for the successful implementation of its plans to fully revitalize Nigeria's agricultural sector.
"This government is fully committed to agricultural development. It is key for us and we are not going to play politics with it. We know that besides ensuring food security for our people, it can also help to generate increased employment opportunities for our youth. We are not only thinking of increasing food production for domestic consumption, we are also working on making agriculture in Nigeria an attractive business for investors and our youth," President Jonathan said.
The President told Nwanze, a Nigerian who has headed IFAD since 2009, that the country was proud of the good work he was doing at the international agency and would continue to support his efforts on the global stage.
Nwanze said that IFAD has been cooperating with Nigerian Governments since 1985 and is currently and engaged in developing value chains for rice, cassava and other agricultural products in the country.
Commending the high priority given to agricultural development in President Jonathan's Agenda for National Transformation, Nwanze pledged that IFAD will continue to be strong partner of the Nigerian Government.

Load more