There was a mild drama at Apapa magistrate's court when a car washer said in the court that the N1million the police said he stole was actually stolen by him to bury his late father.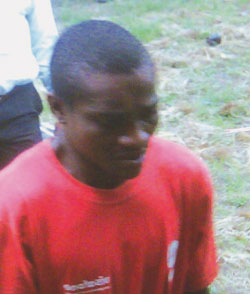 He confessed at the police station that he was the person that stole the money and also pleaded guilty before the presiding magistrate, Mrs A. K. Shonubi.
The offence the police said he committed was contrary to section 390 of the criminal code cap 17 vol 2 laws of La gos State, Southwest Nigeria.
The 28-year old Cosmas Ogbuji was charged to court for stealing N1 million from the car of his customer, Alhaji Abdulraheem Oluwayomi.
He openly admitted that he stole the money as police claimed and used it to bury his late father so that he will rest in peace.
He claimed that when his father died last year he had no money to bury him.
Cosmas said he was able to get the money through Alhaji who engaged his services to wash his car.
He said immediately he saw the money inside the car, he did not waste time to steal it and went straight to his village in Imo State and started organising his father's burial.
He said that he had not seen the kind of money he saw in Alhaji's car in his life.
Cosmas said after the burial ceremony, he returned to Lagos and continued his car wash business.
Cosmas was arrested at Dockyard Apapa, Lagos where he had gone to wash cars for his customers and was charged to court for the offence.
He was remanded in Kirikiri Prison Apapa Lagos pending when he will be sentenced. The courtlater adjourned the matter.
—Cyriacus Izuekwe

Load more