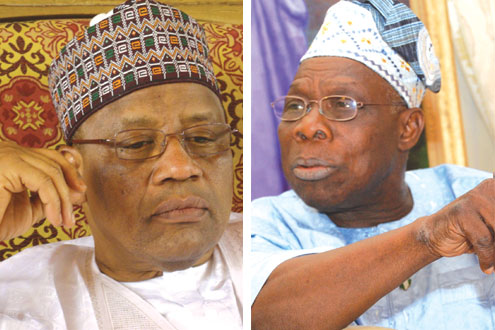 Former president, Chief Olusegun Obasanjo this morning responded to criticisms of his administration by the former military president, Gen. Ibrahim Babangida (retd).
Obasanjo said Babangida should bury his head in shame for not coming up with a single power project during his similar eight-year rule.
Also, the Ota farmer did not mince words while slamming the former Director-General of Bureau of Public Enterprises (BPE), Mallam Nasir El-Rufai over his comments on the privatisation of the Nigeria Airways, affirming that he stopped the sale of the moribund company in the interest of Nigeria.
Babangida had on Tuesday at a press conference to mark his 70th birthday castigated Obasanjo for wasting $16 billion on the power project his administration embarked upon.
Obasanjo, who spoke with newsmen at his Presidential Library project site today where he met with some foreign investors, said at first he did not believe the report credited to IBB until "somebody phoned me and said this was what he said.
"He said check all the papers and I said get me all the papers. They got me the papers and I read them. It's a little bit unlike Babangida. But if Babangida had decided, on becoming a septuagenarian, that he will be a fool, I think one should probably do what the Bible says in Proverbs chapter 26, verse 4. It says don't answer a fool because you may also become like him. When you go to the same Proverbs, chapter 26, verse 5, it says answer a fool so that he will not think he's a wise man. I am now torn between which of the two verses I should follow in this respect."
Obasanjo clarified that some of the allegations raised by IBB, "were unfortunately not well thought-out. For instance, he talked about our energy. When I was the military head of state, I built Jebba dam; built Shiroro dam; I prepared the foundation of Egbin thermal plant which President Shehu Shagari completed and commissioned. That time the money we were making was not up to the money Babangida was making annually in his eight years and yet we built two dams.
"It is important to know that power is the driving force for development and for any developing country. But since the building of Egbin power plant, until I came back in 1999, there was not any generating plant for almost 20 years and Babangida spent eight years out of that. Now, he has the audacity to talk about anybody, I think that is unfortunate."
Tackling IBB on the provision of dividends of democracy for Nigerians, Obasanjo said Babangida contradicted himself and wondered how he could have provided dividends of democracy and still be regretting it.
"I also read where he said in his time, he gave the dividends of democracy and at the same time he regretted. When I read that, well, I said Babangida should be pitied and shown sympathy rather than anger or condemnation because of the old saying that a fool at 40 is a fool forever and I would say a regret at 70 is a regret too late. Well, a regret at 70 is a regret to the grave."
On El-Rufai's allegation of his complicity in the privitisation of the Nigeria Airways, Obasanjo affirmed that he blocked the sale of Nigeria Airways, "not that I attempted to block the sale of Nigeria Airways."
"When I was military head of state, Nigeria Airways had 32 aircraft. By the time I came back as elected president of Nigeria, Nigeria Airways had only one aircraft. One of the 32 was a wide body, they had all gone and the report on the airways which we worked on is there. The amount of money we will have to pay if Nigeria Airways was sold, what we would get out of it is less than 10 percent of the debt we have to pay. That will be the debt Nigerian tax payers will have to pay; that is not the way to run the affairs of this country.
"I won't run my own affairs that way, so I opted for liquidation. So, it was bankrupted, it was liquidated; in which case whatever you gain from liquidation which is also a form of sale, it means the burden will be shared by all the creditors and everybody. If I owe you 10 dollars and what I sell when I am liquidated is two dollars, that's what you get. I did not allow normal privatisation or sale because it would have put a very heavy burden on Nigeria. Nigerians should know that and in fact my administration should be commended for that. It's not that I did not allow that sale because the law establishing it is to sell it but liquidation is also a form of sale."
Obasanjo declared that he was ready to show up at any sitting to explain himself on the issue and declared: "Anybody who wants me for any event, I'm available."
And when asked why these attacks were coming at this time, Obasanjo in his witty manner fired back: "I should ask you."
—Abiodun Onafuye/Abeokuta

Load more