President Goodluck Ebele Jonathan has called for a global regulation of small arms, in order to check increasing cases of trans-border crimes, restiveness and insurgencies.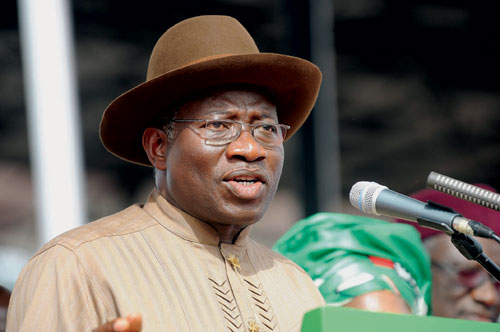 The President was speaking during a farewell visit by the outgoing Finnish Ambassador to Nigeria, Ms. Anneli Vuorine, at State House, Thursday.
He said Finland and Nigeria share similar positions on several global issues, such as the need to take global action to check the free movement of small arms, peace-keeping, and human trafficking.
President Jonathan said, "global regulation of the movement of small arms will help to check trans-border crimes and insurgencies," adding that Nigeria would continue to canvass that position.
He congratulated the out-going Ambassador for stimulating trade relations between the two countries and her other achievements, and thanked her for these efforts.
Earlier, Ms. Anneli Vuorine said she was impressed by "hard working, devoted and inspiring Nigerians" she met during her 3-year stay in the country, adding that her tenure was "interesting and historic".
She congratulated President Jonathan for the success of Nigeria's conflict resolution and peace-building activities in West Africa, and said efforts were on-going to utilise Nigeria's facilities for joint peace-keeping training.

Load more