President General of Nigeria Football Supporters' Club, Dr. Rafiu Ladipo, has disclosed that the U-20 Flying Eagles of Nigeria greatly missed the presence of the supporters' club at the ongoing FIFA World Cup in Colombia.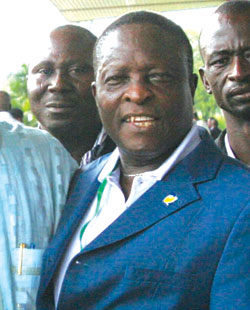 The Ramon Azeez -captained Flying Eagles were denied the opportunity to enjoy the presence of the supporters'club throughout their matches in Colombia because members of the club could not make it to the South American nation before the Flying Eagles crashed out of the tourney.
Dr Ladipo told P.M Sports that it was painful for his members not to make it to Colombia despite their efforts to be there to support the Flying Eagles.
'It was painful for us to miss out of a major tourney like FIFA U-20 World Cup. We tried our best but we couldn't make it there.
"It was painful when the players told us they missed our presence at their various match venues in Colombia.
"We are the image of the country wherever we go to support the national teams. It was as if the national image was missing at the WYC.
" We saw it on TV during the broadcast of our matches how we were seriously missed at the WYC.Only a few of our national flags were waved by pockets of supporters in the stands," he said
Ladipo disclosed that lack of funds prevented them from making early arrangement to travel to the South American country.
"We made efforts to get funds for our travel expenses before the commencement of the World Cup but all to no avail.
"It was when we had lost hope that Dr Taiwo Afolabi, Managing Director of Syfax Group Of Companies, came to our rescue.
"He assisted us with the sum of N10 million, while the NFF gave us N2, million for the trip, a day before the Flying Eagles played against France.
But our players failed to qualify for the semi-final after we had secured flight tickets for 15 members of the club,"he said.
However, the club has vowed not to allow the same fate befall the Super Eagles when they take on Madagascar in their Africa Cup of Nations qualifier in Antananarivo next month.
Pee Gee, as Ladipo is fondly called, said: "We are going to Madagascar in full force to support the Super Eagles. We will make sure they get all the physical support they need for the crucial match.
"Nigeria must be part of next year's Africa Nations Cup in Equatorial Guinea and Gabon. And for us to be part of it, we need to beat Madagascar right there in their capital , Antananarivo.
"Hence, we are going there with our drums, flutes and trumpets to make sure we give the team a resounding support that will see them scale the Madagascar's hurdle."
—Bamidele Olowosagba

Load more