Captain of Nigeria's Flying Eagles to the ongoing U-20 FIFA World Cup in Colombia, Ramon Azeez, has disclosed that he was never scared about of making the John Obuh-led team to the tournament.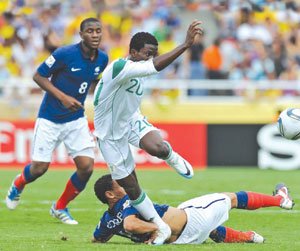 Azeez made this revelation exclusively to P.M Sports during the reception organised for the team on arrival from Colombia, at the Press Centre of Murhitala Muhammed International Airport, Lagos, Southwest, Nigeria.
The F.C Almeria of Spain Midfielder said he was confident he would make the team, contrary to the widespread media report that his participation in the FIFA World Cup was in doubt because he could not get a visa from Nigeria to the Faro camp of the team .
"I never had any doubt at all because I knew the coach was aware of what I would contribute to the team if I made it to camp.
"What I focused on that time was to make sure I got the necessary papers and joined the rest of the team."
The soft-spoken player said even when his friends and loved ones were worried about the situation, he remained calm.
"It was tough because people were calling me to know what happened but I kept telling them to pray for me for the embassy to grant me visa.
"Some of my friends even asked me if I had injury and I did not want my coach to know about it. I just laughed it off," he said
Azeez said that Coach Obuh never put pressure on him to be part of the team. Rather, he was pressing the Nigeria Football Federation, NFF, to assist him secure his visa to Colombia.
"My coach was not worried about my absence in the camp as it was reported in the media. He knew I was doing all I could to be part of the team. Besides, there were players in the camp that he needed to work on ahead of the competition.
"I captained the team to South Africa and I was ready to do everything possible to be part of the team at the WYC,"he said.
Reflecting on their quarter final defeat to France that ended their professed ambition of winning the elusive U-20 World Cup trophy for the country, the six-time African champions' captain said: "It is really sad the way we were knocked out by France. We had hoped to lift the trophy and bring it back to this country. Though we did our best, unfortunately it was not good enough to win a world cup.
"I hope Nigerians will give us another chance in the future to correct all the mistakes we made in Colombia to make the country proud."
—Bamidele Olowosagba

Load more