Lawyers and other eminent personalities have expressed outrage over the suspension of the President of the Court of Appeal, Justice Isa Ayo Salami by the National Judicial Council, NJC.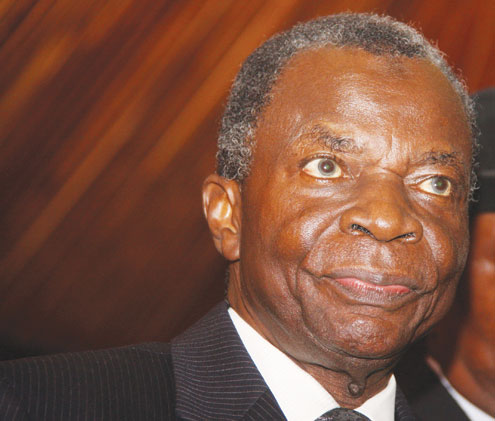 The NJC which met in Abuja, Nigeria's capital, yesterday not only suspended Salami but recommended that President Goodluck Jonathan should retire him.
However, it is condemnation all the way for the NJC on its decision to suspend Salami. Barrister Ebun Adegboruwa said the decision was too hasty especially when there was a pending case in court.
"They should have waited for the court to determine the issue one way or the other, moreso, the parties have been served.
"It shows one signal, that will serve as a reference point for others to disobey the orders of the court. The action of the NJC in recent times calls for concern.
"As for Salami Vs Katsina-Alu, it could have been better for the two of them to step aside to douse the tension in their dispute to save the judiciary," he said.
A Lagos lawyer, Allen Agaka in his reaction averred that the judiciary is wrong, especially when Salami has gone to court.
He said the action taken by the NJC is shameful.
Barrister Paul Ogundele said: "It is rather unfortunate. The suspension is wrong in law. Salami's fundamental right to fair hearing has been breached. They should have allowed the case to run its course."
Another Lagos-based lawyer, Mr. Supo Osewa, while expressing surprise at the decision of the NJC, said the action is illegal, unconstitutional especially when a party has gone to court to seek redress. He said the decision of the NJC will further ridicule the judiciary.
Chief Benson Ndakara alligned himself with the comments of the other lawyers and added that NJC is too hasty. They could have allowed the court to decide it one way or the other, before any decision is taken.
Similarly, lawyer and rights activist, Bamidele Aturu said the news that the National Judicial Council has suspended Honourable Justice Salami, in spite of service on it of the process filed by him challenging the setting up of the Auta Committee, is a condemnable illegality.
"That the brazen decision was taken by a body that has responsibility for overseeing the judiciary shows that our attempt at building a liberal democracy is imperilled simply on account of the illiberal persons that superintend the administration of justice in this country," he said.
According to Aturu, "the decision of the Supreme Court in the case of Ojukwu versus Military Governor of Lagos State has made it clear that it is an act of lawlessness for a party to present the court, as the NJC as brazenly and contemptuously done in the instant case, with a fait accompli. What the NJC has done is nothing but a farce. First the NJC evaded service, then , it pronounced definitively on a matter that is pending in court. What nonsense?
"We will not allow this act of primitive lawlessness to stand. Those who desecrate the temple of justice are not entitled to any protection or respect from civilised citizens. Somehow, somewhere I hope against hope that the news is a rumour. I call on all decent Nigerians to condemn the farcical illegality. The NJC should withdraw the putrid and offensive decision. The suspension of Justice Salami is unacceptable, atrocious, evil, illegal, unconstitutional, irresponsible and cannot stand."
—Akin Kuponiyi

Load more