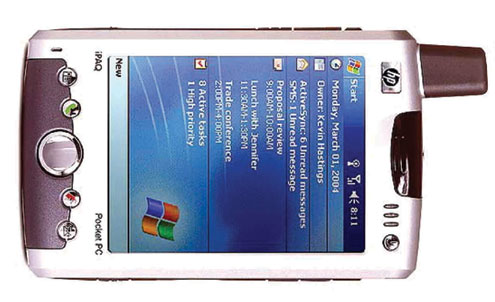 Computer giant, Hewlett-Packard, is pulling out of the tablet and mobile phone market after poor sales of its products and stiff competition from rivals, Apple and Google.
The announcement, just a year after the company spent billions to acquire failing mobile maker, Palm, came as HP said it also plans to sell or spin off its PC division.
Together, the moves would take HP out of the consumer market, though it will continue to sell servers and other equipment to business customers.
The move comes in the wake of alarming news from retailer, Best Buy, who according to reports, is struggling to shift its stock of over 250,000 HP Touchpad tablet.
It has only shifted 10 per cent of the stock so far and is reportedly asking HP to take the rest back.
'Our TouchPad has not been gaining enough traction in the marketplace,' said HP CEO, Leo Apotheker, in a conference call.
"We have made the difficult but necessary decision to shut down the WebOS hardware operations."
HP's mobile device business, which includes the webOS-running smartphones and TouchPad has suffered while rivals Google and Apple have seen roaring sales of their products.
In a desperate bid to regain market share, HP last year snapped up Palm, a struggling wireless pioneer for $1.8 billion.
But since Palm's comeback attempt, the popularity of the iPhone has only grown while phones running Android, which first hit the market in 2008, abound.
According to research firm, IDC, Apple took the top spot in the second quarter, while Samsung, a big maker of Android phones, took second place in unit sales.
Nokia came in third, while BlackBerry maker, Research In Motion, took fourth.
The PC division is HP's biggest revenue generator but least profitable division.
The move has long been rumoured, but just six months ago HP dismissed reports of the possibility as "irresponsible reporting".
Meanwhile, Google Inc. and Motorola Mobility Holdings, Inc. have announced that they have entered into a definitive agreement under which Google will acquire Motorola Mobility for $40.00 per share in cash, or a total of about $12.5 billion, a premium of 63% to the closing price of Motorola Mobility shares on Friday, August 12, 2011. The transaction was unanimously approved by the boards of directors of both companies.
The acquisition of Motorola Mobility, a dedicated Android partner, will enable Google to supercharge the Android ecosystem and enhance competition in mobile computing. Motorola Mobility will remain a licensee of Android and Android will remain open. Google will run Motorola Mobility as a separate business.
The transaction is subject to customary closing conditions, including the receipt of regulatory approvals in the US, the European Union and other jurisdictions, and the approval of Motorola Mobility's stockholders. The transaction is expected to close by the end of 2011 or early 2012.

Load more