There was wild jubilation in Kano, Kano State, Nigeria today when the police unveiled the identities of the six kidnappers who had held hostage the father of Nigerian international, John Mikel Obi, Elder Michael Obi.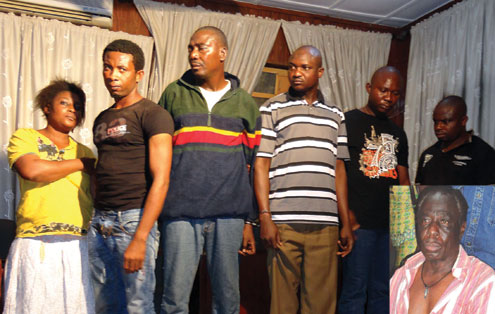 The photograph of the six kidnappers was released in Kano today by the State Commissioner of Police, Ibrahim Idris who said they were apprehended at Kabuga quarters of the city.
According to the Kano Police boss, Ibrahim Idris, the police in Jos, Plateau State arrested a dismissed police corporal, Jacob Cowen who led detectives to Kano.
The cooperation of the Plateau and Kano states police commands led to the arrest of the six suspected kidnappers who had held Elder Michael Obi hostage for 10 days.
The suspects include a lady, Nkechi Ossai, Ifeanyi Essien, Jacob Cowen, Ndubusi Friday, Basil Chukwuma and a Nigerien, Sule Ibrahim.
Narrating his ordeal in the hands of his captors, Elder Michael Obi said they bundled him into an Army van and drove him into a bush where they beat and hit him with their shoes.
He said his kidnappers wore Army camouflage uniform but he could not ascertain if they were soldiers.
Meanwhile, the Eze Ndigbo of Kano, Chief Tobias Idika has called on President Goodluck Jonathan to treat kidnappers as terrorists, adding that the six suspected kidnappers should be brought to justice.
The Eze Ndigbo disowned the Igbos among the suspects, saying that the Igbos are noted for hardwork and business acumen and not terrorism.
In a statement he signed, the Eze Ndigbo said he was delighted to join other Nigerians in making God for sparing the life of Elder Michael Obi to tell the story of his abduction.
The father of Chelsea and Nigeria midfielder, John Mikel Obi, Elder Michael Obi was abducted in Jos, Plateau State for 10 days.
After about a week, the kidnappers were reported to have demanded N20 million as ransom. But they were arrested yesterday evening while the police later released their photograph.
—Madu Nmeribeh/Kano

Load more