The Benue State Urban Development Board has demolished the N30 million mansion belonging to the state chairman of Association of Local Governments of Nigeria ALGON, Hon David Sevav in Makurdi. The Development Board claimed that it is an illegal structure.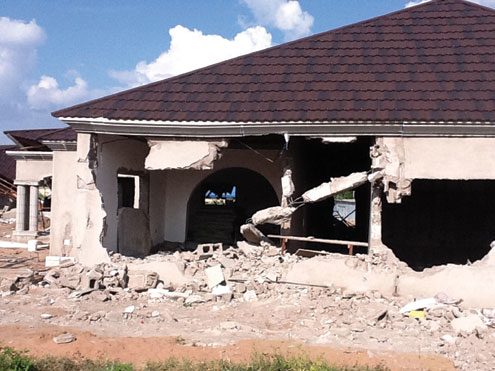 The mansion located a few metres away from the former House of Assembly quarters in Nyiman Layout out crumbled when the bullodozer from the state Urban Development Board descended on it.
While speaking with newsmen in Makurdi, Sevav said the document for the building was duly approved by the State Ministry for Land and Survey though he did not produce the documents to substantiate his arguments
Officials of Urban Development Board who pleaded anonymity insisted that the house is an illegal structure without site plan and approval.
P.M.NEWS learnt that during the demolition exercise, Sevan, who is the current care taker chairman of Ukum Local Government area, allegedly appealed to Governor Gabriel Suswam for intervention but the governor snubbed saying the law must take its course.
The Urban Development Board said more illegal structures would be demolished within the week to serve as a detterent to other law breakers in the state.

Load more