Nigeria Football Federation, NFF, is not happy that the Confederation of African Football, CAF, gave the hosting right of the Olympic Games qualifying play-offs to Egypt.
Eight countries, Nigeria, Algeria, Egypt, Ivory Coast, Morocco, Senegal, South Africa and Gabon qualified for the play-offs, which will be used to determine Africa's three slots for the football event of the London 2012 Olympic Games next year. The play-offs are scheduled to take place in November this year.
First vice president of the NFF, Chief Mike Umeh and the Media Officer of the body, Demola Olajire, expressed the country's displeasure over CAF's action to give Egypt, who are not playing in the play-offs the hosting right.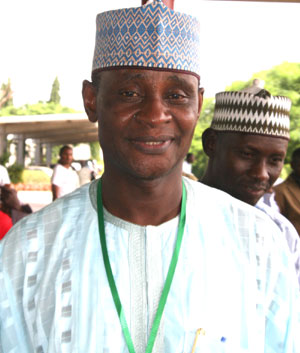 Olajire said the NFF is disappointed at the decision of CAF to award the hosting right of the final round of Olympics qualifiers to Egypt, saying that though the NFF is sad, the body is not dejected as the latest action from CAF will only spur the country to prepare the U-23 Eagles handled by Coach Austin Eguavoen very well for the competition, which will kick off on 26 November.
"We're sad when CAF informed us through a five-paragraph letter that we have been denied the hosting right of the mini tourney. We are not going to let the decision weigh us down but rather make sure the Dream Team V are prepared for the challenges ahead of them in Egypt,"he said.
Umeh said the NFF has been preparing for the hosting of the play-offs only for CAF to give it to Egypt.
"It was bad news for us, having informed CAF a long time ago about our intention only for it to give the hosting right to Egypt on a compassionate grounds," he said.
Umeh, however, stated that the denial of hosting right won't stop the U-23 Eagles from qualifying for the London 2012 Olympics.
"I must point out quickly that hosting the tournament does not guarantee an automatic ticket for the host nation. All we were trying to do was to make sure we give the Dream Team an opportunity of playing on home soil. I think we are on course in our bid to get one of the tickets for the Olympics," he said.
The Eguavoen-led Dream Team V defeated Equatorial Guinea and Tanzania to make the last eight for the playoffs.
Meanwhile, CAF announced yesterday that the 8-nation tournament will now start on 26 November.
The top three teams in the play-offs will get automatic tickets for next year's Olympics in London, while the fourth-placed team will battle a team from Asia for the last ticket to the Games.
—Bamidele Olowosagba

Load more