Despite the hoopla, outrage and uncertainty flickered everywhere from tabloids to the blogs over her much awaited wedding in the last three weeks, Nollywood star actress, Mercy Johnson, has decided to take a leap of faith as she moves ahead with her plan to walk down the aisle this Saturday with her fiance, Prince Odinaose Okojie.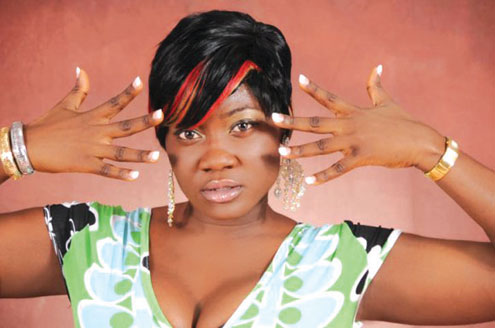 According to sources close to the sultry actress, the fear that the Christ Embassy will not solemnise the union was allayed when the church refused to be cowed by different threats and jibes thrown at it by some groups and columnists.
"Some called it a trial of love while others said it is a triumph of love, but for Mercy Johnson, it is simply a leap of faith," said the source.
However, another source and a member of the church said from all indications, the wedding may not take place at the church's main cathedral in Oregun, Lagos, as planned in the original wedding invitation.
While the traditional ceremony will go on as planned, a new venue has been chosen by the couple for the church wedding.
To also reassure the couple's guests and fans alike that the wedding arrangement is on course, the bride-to-be's publicist released a statement which read: "We would like to formally inform the general public, especially Mercy Johnson's fans that after several legal and spiritual consultations, Mercy Johnson has decided to go ahead with the wedding plans.
"MJ will be walking down the aisle come Saturday, August 27. She, however, urges her fans and friends to pray along with her while she appreciates those who stood by her."
Few weeks to ago, a woman named Lovely Okojie had suddenly surfaced with two children, claiming that she is still legally married to Prince Okojie. The Canada-based woman, who backed her claims with photo evidences, was hell bent on stopping the wedding, using every means possible including legal, public sympathy and media, but as it seems, the lovebirds are unstoppable. Since joining Nollywood some years ago, Mercy Johnson has acted in countless movies, while she is regarded as one of the sexiest. Some call her 'hips don't lie' and she is one of the most talked about as thousands of suitors from within and outside Nigeria have been looking for ways to get her attention. And, of course, Mercy was involved in several relationships that she had high hopes will lead to the altar only to suffer hiccups until she finally met and decided to settle with Prince Okojie, the Edo-born millionaire.
—Funsho Arogundade

Load more