Former President, Chief Olusegun Obasanjo, has expressed the need to harness the enormous power inherent in radio communication as a vehicle for reaching a mass audience within a short space of time.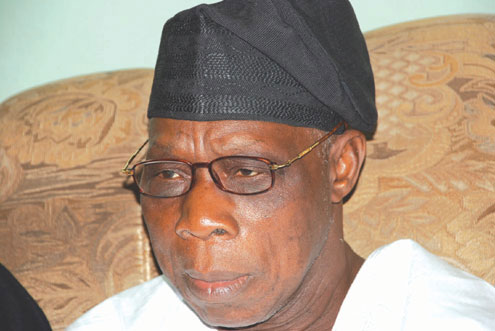 He said in spite of this, its potential has not been fully explored and utilised by government and private individuals to drive development in Nigeria.
Obasanjo spoke today at his Hill-Top residence in Abeokuta, the Ogun State capital, outhwest Nigeria, when the management of Paramount FM and officials of the Ibadan South-West zonal office of the Federal Radio Corporation of Nigeria [FRCN] paid him a courtesy visit.
Obasanjo added that for the country to develop faster than it is now, and for the citizens to be effectively mobilised in that direction, there should be more radio stations across the country so that the majority of the people could be informed and participate in the developmental issues that affect them.
" I have to say what I have already said, that I appreciate the power of the media especially the radio, although they don't use them as they ought to. I believe that to fast track development in our country, you need to use the radio more than we have; we should use the radio more than we are using it," Obasanjo said.
The Zonal team consisting of representatives from FRCN's controlled stations in Lagos, Oyo, Osun, Ekiti, Ondo, Ogun, Edo and Delta states respectively, was led by the Zonal Director, Elder Dada Ogundele from Ibadan, Oyo State.
Earlier, the FRCN team told Obasanjo, the Chairman Board of Trustees of the Peoples Democratic Party [PDP] that they were in Abeokuta to show appreciation for establishing more FRCN stations across the country during his eight years administration and to solicit for "building materials and funds" in support of the various FRCN FM stations.
The former President noted that everybody's role is critical to the developmental process of the country particularly, the roles of those in the media, and advised that people should use the opportunity entrusted in them to drive development in Nigeria.
"We are all holding important responsibility in our quest for development.It should be discharged for good. And radio as a medium, holds tremendous reach, opportunity and influence. The beauty of radio is that wherever you may be, you will be able to use it," Obasanjo noted.
By Abiodun Onafuye, Abeokuta

Load more