It was a bloody day in Yaba area of Lagos State, Southwest Nigeria when traders at Yaba market attacked officials of the Kick Against Indiscipline, KAI, and stabbed a senior female officer of the brigade in the face and wounded four others.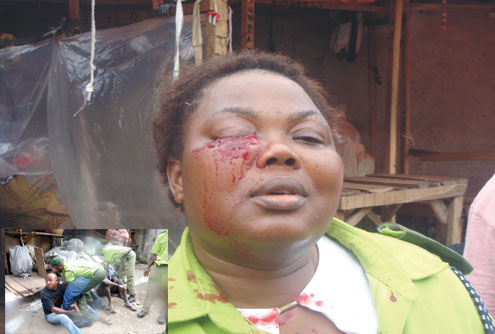 P.M.NEWS gathered that the traders stormed KAI office in the area around 3.00 p.m. with dangerous weapons such as cutlass, knife, broken bottles, among others and unleashed terror on KAI officials.
A KAI woman, Shade Agbalajobi, was stabbed in the face, very close to one of her eyes, while another was injured on the head.
Another KAI official was stabbed in the chest while others sustained injuries on various parts of the body that landed them in hospital.
The five injured KAI officials have been hospitalised at the Lagos State University Teaching Hospital, Ikeja.
As a result of the degree of injuries sustained by the five officials they have been placed on admission at the Intensive Care Unit of the hospital.
Commissioner for the Environment, Mr. Tunji Bello, described the attack on KAI officials as barbaric and ordered the closure of the market which was immediately carried out.
He said the closure of the market became necessary after the KAI officials were obstructed from performing their official duties.
It was not clear what led the traders to attack KAI officials in their office but it was gathered that the KAI team had earlier raided the area to prevent traders from selling their goods on the road.
Yaba market is notorious for illegal street trading that have often caused untold hardship to people in the area as well as violation of environmental sanitation laws.
—Kazeem Ugbodaga

Load more