The Ooni of Ife, Oba Okunade Sijuwade on Thursday stressed the importance of unity among the Yoruba people in order to sustain the enviable position of the race in the nation's socio-political system.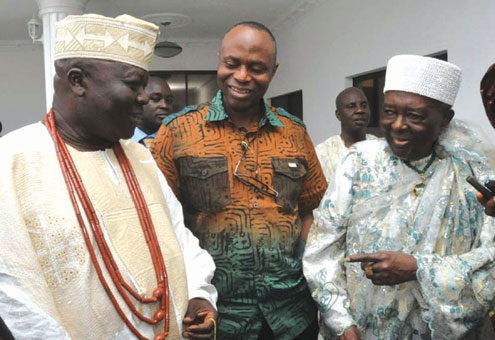 The monarch stated this during an unscheduled visit to the Ondo State Governor, Dr Olusegun Mimiko at the Government House in Akure the State capital.
Oba Sijuwade disclosed that meetings were being held on regular basis to unite the people in the region with a view to upholding the spirit of unity and oneness, noting that the region must not be allowed to be relegated to the background in the scheme of things in the country.
While assuring that the problems confronting the region would soon be resolved, Oba Sijuwade commended the governor for the laudable programmes his administration has been executing in the state.
His words: "The Yoruba must come together and move together and speak with one voice. So there was a meeting today which was attended by some leaders among whom were Bishop Gbonigi from Ondo State and Bishop Ladigbolu from Oyo State. They are now putting their heads together to arrange a larger meeting where we can all meet to solve our problems.
Whether you like it or not, we must come together more than before and become one entity. By the special grace of God and by the power of Oduduwa, we will move forward and it will not be behind our governor by the grace of God.
"We cannot come to Ondo state without paying respect to the governor. It will be very wrong of you to pass through this state without calling on our eminent governor to pay our respect. I'm here to pay my respect to His Excellency, Dr Olusegun Mimiko, who by the special grace of God is doing a good work. The Lord will keep him, bless him and bless the entire people of Ondo State. Don't forget that my mother came from Akure so I'm 30/40% from Akure. So we are here to pay our respect and God will keep our governor."
In his speech, Governor Olusegun Mimiko thanked the traditional ruler and his entourage for the visit and called on the Yoruba not to allow do-or-die politics disintegrate the entire region because of the position of the Yoruba race in the affairs of the country.

Load more