Wasiu Ayinde a.k.a. King Wasiu Ayinde Marshal, K1 De Ultimate, speaks on the building he is erecting in Ijebu-Ode, Ogun State, the fuji scene, death and burial of Sikiru Ayinde Barrister and other issues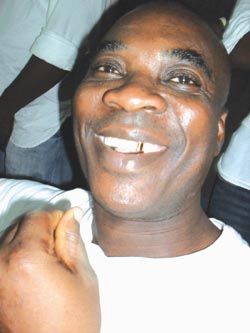 King Wasiu Ayinde, why are you in Ijebu-Ode now?
Well, I am here to supervise the project I am putting up because as a saying goes, where you put your money is where your mouth is.
What project?
I am building a house in Ijebu-Ode.
Why Ijebu-Ode?
This is where I was born and it is my root, so, I am not a proud son of the soil if I don't have something to show for my struggles in life back home.
When did start planning for it?
Well, from the first day of my life.
Is it a kind of house you want to live in later in life or what?
This is a house I want to live in, because every house is worth living in. I am not here to erect a house that will be locked up and put in use once in a while.
Why did it take you so long to come back home to build a house?
I was working seriously and I believe that what is worth doing at all is worth doing well. I also believe in God's time because when it is time to do something, God will minister onto you, so this is the Lord's doing.
Your first house is in Okota, Isolo area of Lagos State, not in Lekki or Ajah and now this one in Ijebu-Ode, why is it so?
That means I am a grassroots person and I want to live among the downtrodden. I want to live where people can see me as somebody living among them. Not everybody living in Ikoyi, Lekki or Victoria Island belongs there. Some of them probably want to show off that they are living in Lekki or on the Island, but my reason for living in Okota and coming to Ijebu shows that I am a man of the people and that I want to live among them.
Is that why you are into politics?
Well, the best politics I am playing is the one with my music and the message I am passing across to Nigerians both at home and abroad. There can't be a better politics than that of adding value to people's life and it really counts because people are proud to relate with me every time. I make political statements through my music and on what manner of leadership and other things because the government we are talking about is that of the people made by the people and for the people.
Why Action Congress of Nigeria (ACN)?
ACN has the backing of genuine people that want to serve and know how best to manage the affairs of the people. ACN is a progressive party that takes care of the people's welfare and it tallies with my belief and principle of what a better life should be.
Are you not afraid that PDP controls the Federal Government and many states, while ACN controls just a few states?
That is what is called government. When the time comes, Nigerians will judge who has served them genuinely. There will be a time when ACN will control the federal or form national government.
Why did you jettison your Senate ambition?
I never nursed the ambition of wanting to go the Senate.
So it was a rumour?
It is, but maybe that is the people's prayer for me because they see me fraternising with the good leaders of ACN and the progressives and may be thinking that I am up to something, but the fact still remains that all over the world, entertainers do fraternise with politicians and I won't be the first to do it, at least Armtab Bachan was elected to the Upper House of Indian Chambers and Charles Swinger was elected in the United States of America.
So you could become governor or senator one day?
But I have not told anybody I wanted to.
You started erecting this building three months ago, so when do you think it will be completed?
As we are going, by the special grace of God, it should be completed in the next two months.
That means you will be building a house in five months?
Yes.
When then will you move in?
As soon as it is completed; you don't complete and lock it up, I will move in immediately.
So all the materials are ready?
Yes.
How much have you spent on it so far and how much do you wish to spend more?
Unfortunately, I don't take stock or record what I am spending on something that gladdens my heart. That means I am setting limitations, so I don't want to set limitations. I will be 55 years old next year and definitely, nothing is too much to give myself a treat. If I am moving into this and God willing, celebrating my birthday here, I don't want to have limitations. I want to spend all I could to give myself a befitting home.
I learnt that the doors alone cost millions of naira, what is the rough estimate?
That I won't do, because it is an ongoing project.
What are the amenities you are instaling in the building?
A lot of things, the building itself has a swimming pool, a night club or discothèque, studio for rehearsals for my band, a gym and other facilities; it is a complete home.
Are you importing your usual pets like crocodiles, snakes and dogs?
Yes, those are my pets and friends. I have enough space to have them around.
But these are wild pets?
They are very good things to have and I feel cool playing with them and feeding them. I have an attachment to them, while I also learn from them.
Is the money you are investing on this project from music or other businesses?
It is from music. I have been playing music all my life and any business I do aside it is from the proceeds from music. I do that to increase and create opportunity for others. If I spend the proceeds from music on anything, it is not to make money, but to create opportunity for other people to live and enjoy. This house is built with proceeds from music.
Since the death of Alhaji Sikiru Ayinde Barrister, a lot of younger artistes have released albums dedicated to his memory, why haven't you done that despite your closeness to him when he was alive?
I am still living and don't want to deliver my message in a hurry. I cook my food very well and serve it for people to eat. That is how a good work should be done. I will go to the studio when what I want to say will have good meaning to the people.
We learnt that before Barrister's death, he made you the head of Fuji Chambers, have you been playing that role since he died?
Responsibility rests on people that love themselves, so if I found myself in such situation, I will do it. Well, as for the Barristers, I have been doing my best and will continue to do that, but I don't have to go on the pages of newspapers to tell the whole world what I am doing. Right now, I am still grieving because of the attachment and my belief in Barrister and can't still believe that the man is gone.
What lesson did you learn from his death?
That is, one day everybody will go, when his time came he left and when mine comes, I will go.
Have you prepared for that time?
Everybody must prepare. Even the books we all learn from say one day, all souls must taste death.
As the chief mourner, people have been asking whether the corpse that was buried was that of Barrister's…?
It was Barrister's body, I was the one that received it from the aircraft, I identified it before it was loaded into the hearse that took it to Fuji Chambers for burial. I held the paper which was given to me by Alhaji Afisu Oluwa, who supervised the loading of the corpse in England. I was led to the aircraft, checked the corpse, confirmed it and proceeded to his house, where it was presented to the clergy men in the presence of Chief Commander Ebenezer Obey, Alhaji Kollington Ayinla and others. In fact, the children demanded to see the body of their dad before it was buried.
How was it buried?
He was given a private burial. It was a private family affair where his children and close pals paid their last respects to the Fuji music icon, I was there, Commander Obey and others were there too.
Was the body tampered with?
No, the children, the Imams and everybody saw it.
After his death, has the wrangling in Fuji kingdom ended?
There was never any wrangling in the Fuji music scene because even in the animal kingdom, there is a leader, the fish in the water have their head, so among men, there must be a head. You know, people try to attach sentiments to fuji music because of its popularity, so the era where one musician uses the other for commercial purposes is gone. We are in the era where people want to listen to good music and know what good music is. Anybody that cannot do that is not welcome among us. The era of fighting and when marketers use us to make money is gone.
And so?
The public is wise, the musicians are wise, I am wise and will not use my music to create controversy at my age. I don't use my time for abusive songs, so we are wiser now.

Load more