Despite all odds, the wedding ceremony between Prince Odianosen Okojie and star actress Mercy Johnson will hold tomorrow P.M. Entertainment can reveal.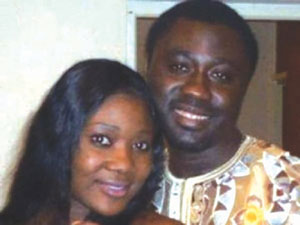 Investigations revealed that due the controversies that trailed the four-day ceremony which started today at Iba Housing Estate Lagos home of the Johnsons, the couple had opted for a secret church wedding, earlier scheduled for Christ Embassy, Oregun, Lagos and grand reception at an undisclosed posh event centre in Ikeja, Lagos.
The invitation letter dated 23 August, 2011 sent to P.M. Entertainment by the publicist to the star actress on her behalf, does not indicate the venue of the wedding. It specifically states that cameras will not be allowed into the hall and the venue will be disclosed hours before the ceremony.
P.M. Entertainment can also reveal that apart from the secret nature of the invitation, Prince Okojie has also beefed up security around his wife-to-be as she is always in company of personal security guards whenever she wants to make any public appearance.
As part of the security measures, the couple paid a visit to a police chief who owns a hotel in a highbrow area of Ikeja, Lagos, to perhaps discuss security details concerning the wedding.
Controversy surrounding the wedding started some days back, when an Italy-based lady, who identified herself as Lovely Okojie, claimed that Mercy's fiancé is her legally married husband and pleaded with the authorities of Christ Embassy not to join them in holy matrimony.

Load more