Deputy United Nations' Secretary General Asha-Rose Migiro and the organisations' security chief, Greg Starr are on their way to Nigeria in response to attacks on UN building in Abuja on Friday morning, Ban Ki-Moon, the Secretary General of the global body said today.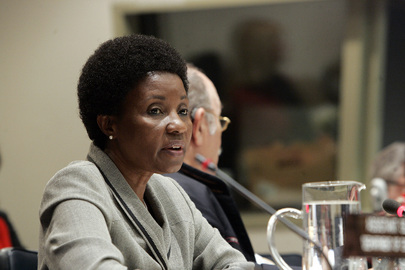 Moon who also said he will be talking to President Goodluck Jonathan very soon about the attacks said the two UN chiefs will meet with Nigerian government officials to carry out a review of the security for UN and its officials in Nigeria.
The UN leader who also said the attack shows that the UN is increasingly been seen as a soft target by terrorists for extremists said 26 agencies were in the Nigeria UN compound attacked on Friday morning and that "considerable" casualties were expected from the car bomb blast.
"This was an assault on those who devote their lives to helping others. We condemn this terrible act utterly," he told reporters.
"Let me say it clearly, these acts of terrorism are unacceptable, they will not deter us from our vital work for the people of Nigeria and the world," Ban said at a Security Council meeting on peacekeeping around the world which he convened in response to the attacks.
"This outrageous and shocking attack is evidence that the UN premises are increasingly being viewed as a soft target by extremist elements around the world," Ban added.
A suicide truck bomb attack on the UN offices in Baghdad on 19 August, 2003 resulted in the death of the organisation's special representative in Iraq, Sergio Vieira de Mello, and 21 other people.
In 2007, 18 UN staffers were killed in a car bomb on the UN compound in Algiers, while seven UN workers were killed when a mob invaded a UN compound in Afghanistan last April. 32 UN workers were killed in a plane crash in the Democratic Republic of Congo on 5 April while more than 100 UN workers died in the devastating Haiti earthquake in January 2010.

Load more