At least 10 people were killed this morning in Abuja when a bomb explosion rocked the headquarters of the United Nations in Nigeria's capital.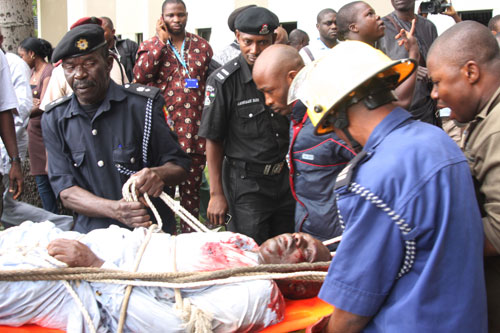 Many staff and visitors to the complex also suffered various degrees of injuries. A complete wing of the UN building was destroyed by the blast.
The bomb which was allegedly planted in a vehicle was driven by a lone occupant through the exit gate of the UN House.
A private uniformed guard on duty was killed while a UN security staff at the gate was wounded.
The vehicle rammed into the reception area of the UN House, destroyed furniture and electronic gadgets before exploding in the middle of the huge building. Two receptionists in the building were killed instantly.
Five floors of the building were affected in the massive blast which shattered all the windows in the building.
This explosion is clearly the most devastating attack witnessed so far since series of bomb explosions were unleashed on the Federal capital by the dreaded Boko Haram sect.
Rescue operation was still ongoing and it is difficult to ascertain the number of casualties affected by the massive blast.
Standard Chartered Bank which operates within the UN building and a travel agency were also affected by the blast.
A survivor who spoke with P.M.News said when the explosion occurred, customers were in the bank while many would-be travellers were also in the office of the travel agency. Today, being Friday, there was a large number of people about to travel out for the weekend.
The Boko Haram sect on 16 June, 2011 detonated explosives planted in a vehicle at the car park of the Police Headquarters in Abuja.
The huge blast killed a policeman and the bomber. Several people were also injured. The seven-storey Louis Edet Police Headquarters was shaken to its foundation while windows in the building were shattered.
The explosion came 48 hours after the Inspector-General of Police, Mr. Hafiz Ringim, warned the sect of tough police action if it did not stop its violent campaigns.
The explosion sent all the judges sitting over the Presidential Election Tribunal at the Court of Appeal adjacent the police headquarters scampering to safety.
In its bombing campaigns, the group had largely restricted itself to Maiduguri, the Borno State capital, with several attacks on police and military formations.
Several police stations have been attacked by members of the sect while arms and ammunition found at police stations were looted and used to cause more havoc.
Several policemen and military personnel have also fallen victims of the sect whose method of operation is to plant improvised explosive devices in crowded areas for maximum impact.
The sect had also launched attacks on security formations in Niger State, killing and wounding several people.
The incessant attacks led the Federal Government to deploy a military task force to Maiduguri to contain the sect. But that has not deterred the sect.
—Nnamdi Felix/ Abuja

Load more