In continuation of the efforts of the Fashola administration to reduce poverty in Lagos State, the government has inaugurated a technical committee on the accessibility of microfinance loans by tradesmen and women as well as other artisans in the State.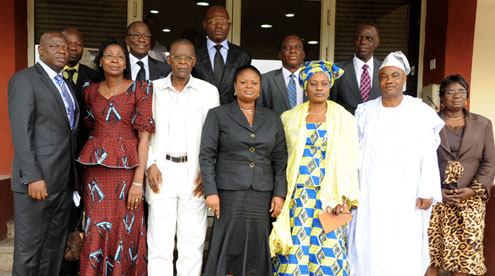 The Deputy Governor of the State, Adejoke Orelope-Adefulire, while inaugurating the eight-member committee yesterday said the committee is charged with the responsibility of interfacing with the small and medium scale businesses and the government, with a view to ensuring that the loans being provided by the government gets to the targeted beneficiaries and that such loan is repaid at the agreed period.
Adefulire said the government is desirous of assisting business owners in the State through the provision of soft loans but regretted that in the past, such loans were not repaid as agreed or the beneficiaries channeled the loans to other irrelevancies, hence the need for a technical committee to advise the government on the provision of such loans in the near future.
She advised interested artisans and other business owners in the State to take advantage of government gesture and meet with the committee on their business proposals and other details of their business with a view to having access to the loan.
"We enjoin you to come forward with your business ideas and other details, while the committee will look at it and advise accordingly. You must also repay the loan as quickly as possible to enable other people benefit. If you don't repay, you are denying other people the opportunity" the Deputy Governor emphasized.
Hon. Adefulire added that the collaboration between the Lagos state Microfinance Institution (LASMI) and the Lagos State Cooperatives Federation (LASCOFED) is to ensure that the loans get to the end users who will put it into judicious use through their cooperative societies.
In his welcome address, the Chairman of LASMI, Bashorun Sikiru Macfoy, said the inauguration of the technical committee was part of the resolutions of a seminar organized by LASMI in conjunction with LASCOFED, where the challenges of accessing microfinance loans were discussed.
He thanked the Deputy Governor for her passion towards the empowerment of small scale business in the State and assured her of the determination of LASMI and LASCOFED to ensure that government loans are properly distributed and also guaranteed repayment.
The technical committee which is to be chaired by Dr. Sikiru Ashamu of the Lagos State University has other members which includes: the President of the Lagos State Council of Tradesmen and Artisans, Engr. Bola Sanusi, Mrs. Ayo Awokulehin from the Lagos State Ministry of Agriculture and Cooperatives as well as representatives of the Ministry of Women Affairs and Poverty Alleviation, LASMI and LASCOFED.

Load more