The Action Congress of Nigeria (ACN) has urged President GoodluckJonathan to rescind his decision to accede to the NJC recommendation on Justice Ayo Salami by appointingan Acting President of the Courtof Appeal (PCA) to replace him, saying a reversal of the decision isthe only way to end the controversy generatedby the unconstitutional act.
In a statement issued in Lagos on Monday by its National PublicitySecretary, Alhaji Lai Mohammed, theparty also criticized the government's attempt to rationalizePresident Jonathan's action, describing it as futileand a pointer to the quality of advice being given to the President byhis advisers.It said the party agrees with Emeritus Professor D.A. Ijalaiye SAN ofthe Obafemi Awolowo Universitythat a competent, patriotic and selfless Attorney-General of theFederation would have advised the Presidentas follows: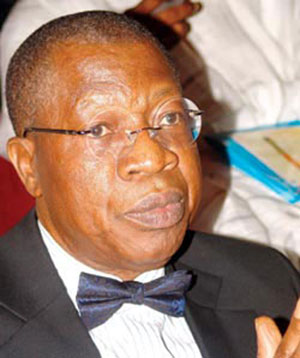 (1) That all things considered, President Jonathan should not acceptthe recommendation of the NJC thatHon Justice Isa Salami should be retired from office and also directthat the suspension imposed on him by theNJC be ignored because both actions were palpably illegal andtherefore null and void.
(2) That Hon Justice Katsina-Alu should proceed on the naturalretirement from August 28, 2011(3) That Hon. Justice Isa Salami be left as the President Court ofAppeal till he reaches retirement age.As Prof. Ijalaye puts it, the above is the correct position of the lawand what any courageous, competent and unbiasedAttorney-General would have recommended to the President in the circumstances.ACN said it must be made clear to all that the NJC is an advisory bodyand not the highest judicial authority in the landas is being erroneously portrayed, adding: "That distinction belongsto the Supreme Court."It said: "As a matter of fact there is no compulsion on the part ofthe President to act on all or any recommendation of theNJC, especially where, in Salami's case, the NJC has not only shownits bias but has acted illegally by pronouncing ona matter which it knew was already subjudice.
"The party also explained that the President was clearly ill-advisedwhen he committed the same illegality by acting on anillegal recommendation of the NJC and filling a non-existent vacancy."For the avoidance of doubt, for Section 238 of the Constitution -which the President said he relied upon to act – to becomeoperative, Section 292 of the constitution must have been complied with."A close reading of Section 292 of the constitution will show clearlythat the President was ill-advised by his Attorney-Generalto be made to believe that there exists a vacuum which must be filled.
This is because Justice Salami had to be validly removedin accordance with section 292 before the President can invoke section 238."Since there was no vacancy, there could have been no lacuna and thePresident was therefore mis-advised by those who mighthave been more focused on personal, rather than nation interest, andhis appointment of an acting President of the Court of Appealhas only given a presidential stamp to a series of illegality," ACN said.
The party urged the President to disregard the circus show being putforward by pseudo public affairs analysts, lawyers masqueradingas constitutional experts to push their personal agenda, as well aspolitical jobbers who have taken over the airwaves and newspapers,most likely at huge costs to hapless taxpayers, trying to defend theindefensible"Our simple answer to the advertorial being used to justify themillions of naira that have been funneled into the pockets of thosebehind the circus show is that the cases of Justices Chudi Nwokorie,Idris Habib or Ibrahim Anka which they cited are different fromthat of Justice Isa Salami. Let them answer this simple question: 'Didthe NJC make the recommendations to dismiss any of these otherjudges while their cases were in court?'
"Nigerians may be reeling under the yoke of poverty and hardship, buttheir reasoning faculty is intact. The truth is that no goodadvert can sell a bad product. The millions being wasted on advertsand cash-and-carry 'analysis' by mercenary constitutional experts andpseudo public affairs analysts, both here and abroad, will not endthe controversy of Justice Salami's illegal removal until the right thing is done".

Load more