Ahead of plans by Nigeria's oil-rich Rivers State Government to handover the management of the 24 new Model Secondary Schools to foreign managers, the State Governor,Chibuike Amaechi has conducted a group of Indian education consortium, Educomp Solutions round some of the schools under construction in various parts of the State.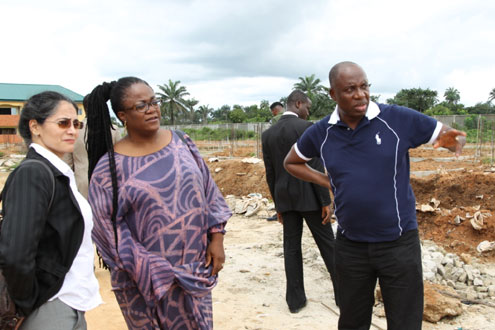 The team led by Educomp's Chief Executive Officer in Africa, Mr Shantaram Hedgekatte accompanied the Governor on inspection of the schools at Omuma and Etche Local Government Areas, Monday.
At Eberi-Omuma, the school is almost 80 percent complete, same as that of Okehi in Etche and in Emohua Local Government Area.
The ones in Ebuubu, Eleme Local Government Area and Sakpenwa in Tai Local Government Area are 100 per cent complete and awaiting to be unveiled.
The facility tour is part of government's preparation to handover the schools before the end of the year and to provide the Indian education consultants with first- hand information on the facilities.
Governor Amaechi explained that the schools cost the State huge amount of money and state of the art equipment would be put in place to get the schools ready for use by the next school session.
"Each of the facility cost us about N4.5billion and would accommodate about 1000 students each. We also have students' hostels and teachers' quarters," he said.
Other facilities within the schools include a library, students workshop, science laboratories, a sickbay two dining halls an auditorium, ICT facility and standby generator among others.
The new model secondary schools are part of the Amaechi led government's decision to overhaul the educational sector in Rivers State. The Governor had stated that most of the moribund Community Secondary Schools would be phased out to pave way for new ones, and 24 of these schools are being built in all the Local Government Areas of the State.
By Okafor Ofiebor/Port Harcourt

Load more