President Goodluck Ebele Jonathan has said Nigeria would support all efforts by Zimbabwe and the Southern African Development Community (SADC) to ensure the conduct of peaceful, transparent and credible elections in the Southern African country.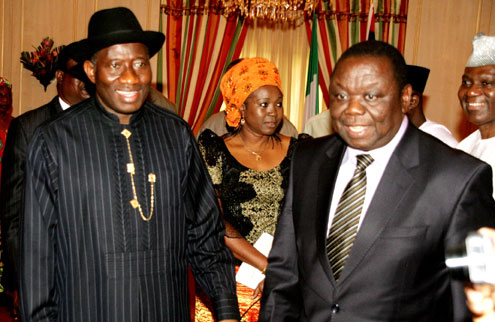 President Jonathan was speaking when he received Rt. Hon. Morgan Tsvangirai, Prime Minister of Zimbabwe, at State House, Wednesday.
He stated that, "all African countries have a responsibility to ensure that Zimbabwe does not go back to the crisis of the past with the consequent loss of lives", adding that Nigeria would support the SADC, which is the regional grouping for Southern Africa, in all efforts for successful elections in Zimbabwe.
President Jonathan said Africans must show they can conduct peaceful, transparent and credible elections that create the stable socio-political and economic environment required to encourage investments for economic development, adding that "the will of the people must be respected".
He said lessons learnt from Kenya and Cote d'Ivoire, among others, should be utilised in Zimbabwe and other African nations, to avoid any crisis arising from elections.
President Jonathan thanked the Zimbabwean Prime Minister for coming personally and for the extensive briefing on the situation in his country as preparations are made for conducting national elections next year.
Earlier, Rt. Hon. Morgan Tsvangirai, had told President Jonathan that all efforts were being made, under the auspices of the SADC to conduct free and fair elections in Zimbabwe next year.
He said his country "wants Nigeria and the African Union to take an active role in the process", adding that this would create the peaceful environment needed for successful elections in Zimbabwe. Mr. Tsvangirai thanked President Jonathan for Nigeria's support.

Load more