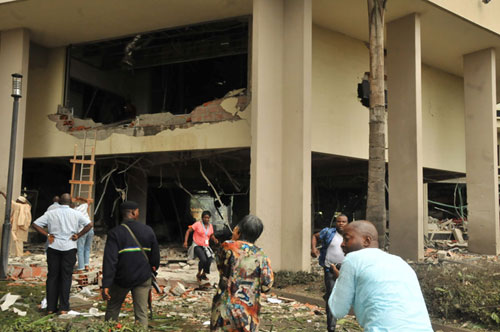 The State Security Service, SSS, has declared wanted, one Mr. Mamman NUR, a notorious Boko Haram element with Al-Qaeda links who recently returned to Nigeria from Somalia, for allegedly masterminding the attack on the United Nations (UN) building in Abuja last Friday.
According to a Press Release signed by Marilyn Ogar, an Assistant Director in the Public Relations Department of the SSS, the security agency stated that on 18th August, that precise intelligence was obtained by the Service that some Boko Haram elements were on a mission to attack unspecified targets in Abuja in an ash-coloured Toyota Camry vehicle with registration number AA539GBL.
Marilyn Ogar also stated that on 21st August, 2011 about 1300 hours, that a joint operations by all security services led to the arrest of two (2) notorious leaders of the Boko Haram extremists sect, namely, Babagana Ismail KWALJIMA (a.k.a Abu SUMMAYA) and Babagana MALI (a.k.a Bulama).Following their arrests, security was further beefed up in Abuja and its environs but the attack was not foiled even as the suspects, who are being held at a military facility, were said to have made valuable statements to security agencies.
The agency stated that further investigation had revealed that the car used for the attack was a Honda car with Kano State registration number AV38NSR. It was purchased on 3rd September, 2002 and registered on 3rd December, 2002. The vehicle identification number is 1HGCBA7400A100748, Engine number, F22A72000540.The SSS reiterated its commitment to ensuring that Nigerians have a safe, peaceful and secure environment and reassured Nigerians that we have no other country and must all strive to maintain the nation's unity which is currently being threatened."We implore all Nigerians to be more security conscious and vigilant, while urging the general public to cooperate with security agencies by providing useful information that could lead to the arrest of Mamman NUR who is hereby declared WANTED. Any person with useful information which could lead to the arrest of the suspect and other accomplices should report to the nearest Police station, military formations or any other security agency" part of the statement read.

Load more