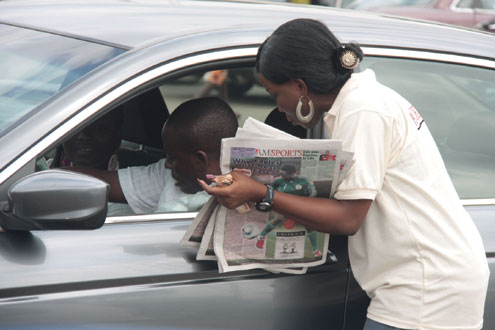 There was a phenomenal improvement on the sales of A.M.Sports this morning when several teams from Independent Communications Network Limited, ICNL, publishers of TheNEWS/P.M.NEWS/A.M.SPORTS again took to the streets in Lagos to create awareness for A.M.SPORTS, the newest daily sports tabloid.
From Iyana Ipaja, the team leader and Advert Manager, Mr. Yomi Osoba, reported that several copies were sold by the three staff members.
"Readers picked A.M.Sports with enthusiasm," the team leader said.
With the positive response of readers at the Ogba/Agidingbi axis, the team leader described A.M.SPORTS as the potential sports newspaper to beat in the country in the next few months.
He said: "You will be surprised that barely one month after it appeared on the newsstands, A.M.Sports is gaining more ground among sports enthusiasts. The acceptance is encouraging."
From Costain, report came that readers endorsed A.M.Sports by buying more copies than they did last Friday. They also suggested that the paper should lay more emphasis on foreign soccer and teams.
At Pen Cinema, the sales team recorded better sales than they did the previous week. Within an hour, one of them said she sold many copies of A.M.Sports which readers embraced with enthusiasm.
At Ojodu Berger area of Lagos, A.M.SPORTS was warmly received by readers. The five staff assigned to the area reported that buyers were mainly middle-aged men who gladly bought copies from the vendors.
The A.M.SPORTS team arrived the area at about 7 O'clock and was assailed by buyers who wanted to see the day's headline.
"People were calling me and gladly buying it. I sold many copies to my surprise," Funmi Okunyode, one of the staff said.
"It was interesting to do personal selling today. In my postgraduate course, I read about personal selling, but that was theory, today was practice and it went very well. Many people were buying A.M.SPORTS, few others stared at the newspaper as if they would buy and then moved on. But it was a great experience. It was a real practice," Simon Ateba, a reporter and one of the staff said.
"I think we need to supply more copies to the newsstands in this area. People have seen adverts in the newspapers and now would like to find the newspaper at the newsstands," Mr. Peter Asekome, another advert manager, the team leader at Ojodu Berger, said.
The road show began last week in all parts of the Lagos metropolis.
Sales recorded since the sports newspaper was officially launched on 8 August, 2011 show that A.M.SPORTS has consistently found its way into the hearts of many readers across the country.
—Moyo Fabiyi, Simon Ateba & Bayo Adetu

Load more