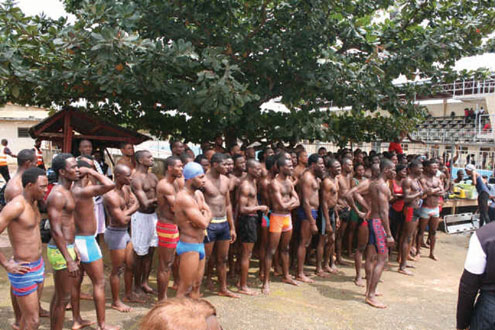 Thousands of youths have turned out for the Lagos regional selection of this year's edition of Gulder Ultimate Search, GUS, a sign that this year's edition will be full of fun and exciting, P.M.NEWS can reveal.
The regional selection process for the show previously held in Abuja, Benin and Owerri, ended with the Lagos exercise.
As early as 7am, on the first day of the physical screening exercise over half of the entire participants who registered for the show besieged the National Stadium, Surulere for the Lagos screening.
Each one of them was enthusiastic and armed with10 empty, uncrushed cans of Gulder beer and credentials, which were prerequisites for the exercise.
The applicants comprised both old and new faces. For the old ones, it was yet another attempt for that cherished slot in GUS, which had evaded them year after year. For the new ones, it was an opportunity to prove their mettle as worthy contestants, capable of being crowned champions. But the main attraction is the N7 million cash prize money, a brand new 2011 luxury SUV and the N500,000 wardrobe allowance.
The winner of the search will also have the pride of being inducted into the Gulder Ultimate Search Hall of Fame and bear the title of the Ultimate Man.
"This year's GUS is expected to stretch the endurance limit of competitive individuals. Little wonder the emotions exhibited by willing contestants at the regional selections represented two extremes," said Yusuf Ageni, Corporate Affairs Adviser, Nigerian Breweries Plc.
Standing on an elevated platform and sighting the sea of heads, P.M.NEWS observed that the screening exercise was like dealing with a crowd at a political rally.
For those that could not proceed to the next level, having failed in some of the gruelling tasks, the expression of anguish was all over their faces.
Barely three weeks after registration opened, over 21,000 Nigerian youths had registered to participate in the reality TV show. Last year, organisers said that close to 20,000 Nigerians registered for GUS.
"This increase in the number of willing contestants clearly reflects the popularity of GUS as Nigeria's longest-running, 100 per cent local content, reality TV programme," said Ita Bassey, Senior Brand Manager, Gulder.
Instead of the usual 10, 30 contestants will scale the final selection exercise this year.
—Funsho Arogundade

Load more