Gunmen have again attacked the Ojodu residence of popular Nigerian music star, John Asieno a.k.a. Daddy Showkey, and held him hostage for three hours.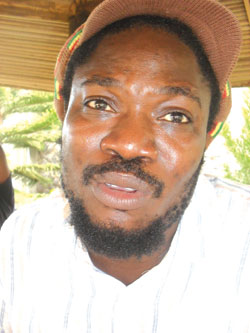 The attack is coming barely a month after a gang of four men raided his home and killed one of his aides.
He was not at home during the tragic raid a month ago.
P.M.NEWS gathered that during yesterday's attack that took place at about 1.30 a.m., the gunmen attempted to gain entry into Showkey's residence through the main gate but could not as guard dogs barked ceaselessly to alert the musician and his neighbours.
Sources said the gunmen were defiant and continued to shoot in the air for three hours before they later left in annoyance and promised to return again.
Showkey confirmed the incident to P.M.NEWS and later reported the matter at the Ojodu Police Divisional Headquarters, Grammar School Bus Stop, Ojodu, Lagos, Southwest, Nigeria. Showkey, who is planning to relocate his family, said "I might be forced to take up arms against the attackers because the Ajegunle people will not watch me being killed."
Before yesterday's attack, four gunmen had on 26 July, 2011, invaded Showkey's residence, killing one of his aides named Wale Suraj.
The Ajegunle Ghetto Soldier told P.M.NEWS that those that visited his home might not be robbers but hired assassins because they did not remove any of his belongings, instead they were asking 'where is the owner of the house?'
In an interview he granted P.M.NEWS recently after the July attack, Showkey claimed that before the first incident he had been receiving death threats from strange callers "and I have informed people about it. I don't know that they will go to this length."
The star singer who is a staunch supporter of Action Congress of Nigeria ACN, in Lagos State, said he is confused and didn't know if the attacks were politically motivated or not.
—Ayodele Lawal

Load more