President Goodluck Jonathan on Friday spoke tough against the perpetrators of bomb attacks and other acts of terrorism in the country, vowing to employ all the instruments at his proposal not only to bring those behind the acts to justice, but to also put an end to such activities.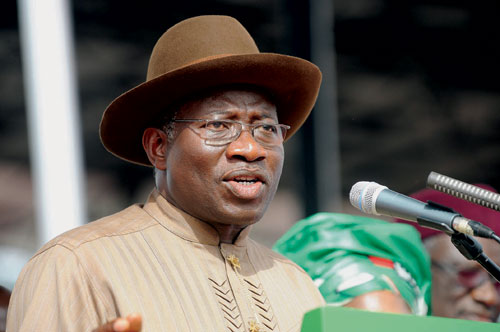 The President who spoke during the launch of new drivers' license and number plates by the Federal Roads Safety Commission in Abuja also assured Nigerians and the international community that government now has a strong lead on those involved in acts of terror against the country and that he has directed the security agencies to pursue the leads so that the perpetrators are brought to book.
The President warned those involved in such activities to desist as he is set to bring them to justice adding that there will be no sacred cow in the fight against those he described as "forces of evil and agents of instability".
The government, President Jonathan added, is in touch with all international agencies involved in the global war against terror and will work in tandem with them and it other partners "towards the timely and eventual containment and defeat of terror and their sponsors in our land".
"I am using this opportunity to warn that those who choose to hide under our new freedom to perpetuate evil against our people shall have no hiding place. This administration is fully determined and able to deal with all threats and agents of instability who continue to test the resolve of our nation and its democratic institutions and leadership.
"As President and Chief Security Officer of the nation, I will employ every means and instrument at my disposal to secure this nation against forces of evil, which seek to divide and sabotage our country. There shall be no sacred cows in our efforts to expose, contain and defeat this network of terror and its sponsors.
"I have directed a review of our national security architecture to lay greater emphasis on intelligence and citizens' participation in security surveillance," President Jonathan said.
He also noted that the launch of the new drivers' license and number plates has acquired greater significance in view of last Friday's bomb which he said has left "in its trail gory images of the threat terrorism now poses to the peace and security of our nation and the safety of our citizens."
According to him, this is especially based on the fact that vehicles are being employed in the bomb attacks.
"Because of the international dimension driver's licence and number plates imposes on us as a country there is the need to ensure that they are not used as instruments of terrorism. I want to reassure Nigerians and members of the international community that terror groups will be defeated in our land. This administration will spare no effort or resource in containing this latest threat to the unity and stability of our nation.
"Terrorism has no conscience and spares no one. We must all stand together against terror in its destructive manifestation," said Jonathan.
With the introduction of the new driver's license and number plates, President Jonathan said the government has invested in technology, people and processes that will restore the integrity of the driver's license and also provide the nation with a credible database of drivers and vehicles.
He also said the initiative is in line with the Vienna and Geneva Conventions on road signs and markings which his administration acceded to last year.
"The accession to these conventions, which have been in existence since 1949, imposes new responsibility on Nigeria to ensure that the driver's license is a competency-based certificate," President Jonathan noted.
He added that the launch of the new drivers' license will lead to immediate implementation of the Driving Schools Standardization Programme (DSSP) that stipulates that only accredited driving schools must sponsor all fresh applicants for driver's licence as well as a new regulatory regime of mandatory test and continuous driver's training has been introduced for commercial drivers.
Jonathan who assured FRSC of government support asked the commission to enforce traffic rules without "undue respect to positions, ranks and status of any select group of road users".
He especially tasked the FRSC on greater enforcement of the ban on indiscriminate use of siren by unauthorised persons and removal of tankers and trailers that are indiscriminately parked to obstruct the roads.
President Jonathan asked the Corps Marshal to come up with an immediate action plan in conjunction with other stakeholders for ensuring that adequate parks are provided for trailers and tankers on our highways nationwide.

Load more