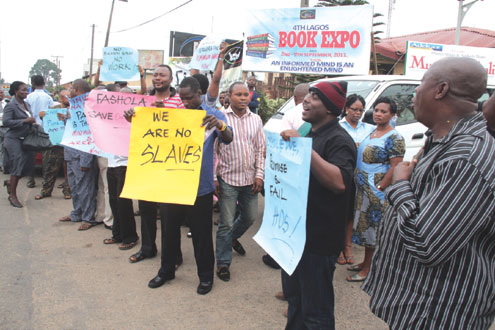 The Lagos State Television, LTV 8 and Radio Lagos, were this morning shut down by officials of the Nigerian Union of Journalists, NUJ.
The picketing, which started last night, P.M.NEWS learnt, was as a result of the alleged refusal of the management of the television house to pay the N18,000 minimum wage, which has been paid to other workers in the state civil service, including the Ministry of Information, which oversees the television station and the state-owned Radio Lagos.
This morning, the gates to the main entrances were locked and blocked with vehicles of the Union while staff and other visitors to the television station were stranded outside the gates.
Members of the NUJ displayed placards with different inscriptions like No Pay, No Work, Lagos State Government, Fulfil Your Promises To Your Workers, LTV Staff Are Also LASG Workers, Fashola, Save Our Soul, Fashola Insensitive To Our Plight.
It was learnt that for the picketing to be effective, the Union ensured that since last night, the two transmitters belonging to the organisation were switched off and disconnected, making it impossible for the radio and television houses to broadcast.
Every effort by management of the station to reconnect the transmitters failed and the union chased the staff out of the premises before barricading the gates.
As at the time of filing this report, officials of the Union were meeting with management, Lagos State Head Of Service and the Commissioner for Information and Strategy to find a solution to the crisis. An executive member of the Nigerian Union of Journalists, who spoke with P.M.NEWS, however, said that the government had been given a one-month ultimatum to pay the workers.
According to the member who did not want to be named, "when we met a month ago, we agreed that the minimum wage would be paid from the end of August, but the government failed in its promises."
He added that at the meeting, the agreement reached was signed by representatives of the State government and the Union.
"Also, when the current Commissioner of Information came, he told us that the money would either be paid or he would resign, but as I am talking to you, the money was not paid and he has not resigned," he said.
As at the time of filing this report, a detachment of policemen and the Lagos State Transport Management Agency, LASTMA, were seen in front of the station, trying to prevent a breakdown of law and order and ensure free flow of traffic.
—Ayodele Lawal & Eromosele Ebhomele

Load more