The violence in Jos, Plateau State has taken a different dimension with a new approach to killings of perceived enemies by both armed men suspected to be Fulani herdsmen and natives of Jos.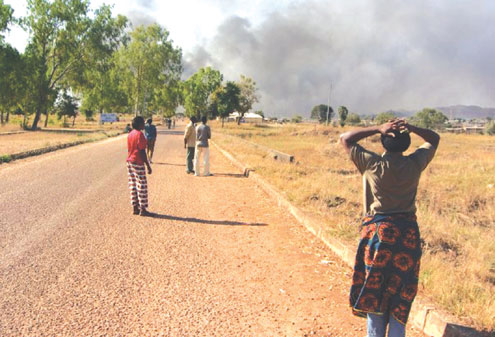 The natives mount road blocks along the Jos Airport Road, Jos-Kaduna Road and Vom-Manchok Road, stopping and searching all vehicles.
P.M.News learnt that the armed men usually kill innocent travellers identified as Hausa-Fulani Muslims, while the same atrocities are being carried out by the Hausa-Fulani youth on the Jos-Kaduna, Bauchi-Jos and Jingre-Jos Roads against Jos natives or Christians found in the vehicles .
What appears to be an ethnic cleansing battle between the majority tribe, Berom and the Hausa-Fulani, has left more than a hundred innocent travellers dead and their vehicles burnt in recent weeks.
The renewed violence in Jos and reprisal attacks after the Monday, 29 August bloody clash between Christians and Muslims at Rukuba Road Eid Mosque has created unease and insecurity in and around the city.
The reprisal attacks that have become routine have resulted in the loss of several lives and destruction of property worth millions of naira.
P.M.News learnt that Fulani herdsmen were responsible for the reprisal killings in Heipang village, where a family of eight was massacred in cold blood, Barkinladi, Babale and Dabwak villages.
P.M.News also observed that the majority of Berom youth and other natives of Plateau State have taken the security of their lives and property into their hands.
Yesterday our reporter on his way to Jos saw a group of youths numbering over 100 at a road block mounted at Vom, a border town between Plateau and Kaduna.
According to one of them, the road block mounted for stop-and-search for weapons as well as enemies, became necessary since the police and soldiers could no longer protect them.
However, as hostilities continue, Governor Jonah David Jang who has been out of the country for over two weeks is yet to return.
—Femi Adi/Kaduna

Load more