Elected just five months ago overwhelmingly by his compatriots, President Goodluck Jonathan's popularity continues to go down, with many expressing doubts that he has got what it takes to provide good leadership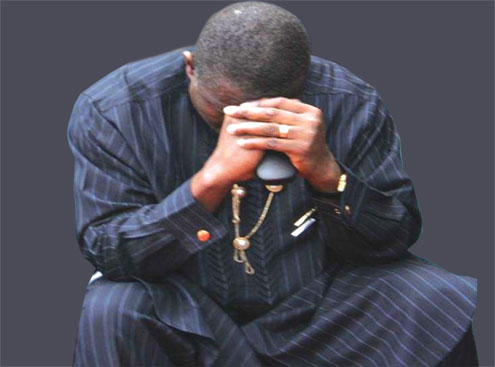 The months leading to the April 2011 Presidential Election were without a doubt very good for President Goodluck Ebele Jonathan. From the moment he made that rousing speech at the Eagle Square, Abuja, where he declared his intention to contest for the presidential ticket of his party, the Peoples Democratic Party, PDP, it seemed most Nigerians had made up their minds to vote for Jonathan.
At the Eagle Square, Jonathan spoke about his humble upbringing in Otuoke, Bayelsa State, during which he went to school without shoes. That resonated with many ordinary Nigerians. Even the president's political enemies acknowledged that was a great speech.
The President's Facebook page offered to many of his admirers the opportunity to show their affection and counsel the Nigerian leader on how best to steer the ship of state. Today, however, perhaps there is no better way of gauging the declining popularity of President Jonathan than a look at the response to recent postings on his Facebook page. Unlike the presidential election period when his friends were profuse in their praise and encouragement, whenever he posts something fresh now, Nigerians use that opportunity to ventilate their anger at government policies.
This new attitude of Jonathan's Facebook friends was especially evident with the posting on his recent visit to the site of the bombing of the United Nations House in Abuja.
"I just returned from a visit to the UN building which was the object of an attack by a suicide bomber. Again, I commiserate with the victims and their families. I had wanted to give enough time for rescue efforts to go on and did not want my presence to interfere with those efforts which is why I have visited today (Saturday) rather than yesterday (Friday). One thing is very clear, a terrorist attack on any individual or any group is a terrorist attack on the rest of the world; it is not just about the UN office in Nigeria. We will work with the UN and world leaders. Of course, many of them have contacted me between yesterday and today and we are cooperating in an effort to tackle this global scourge," the President had posted on his facebook page, signing off with "GEJ", his initials.
But not many of his friends were taken in. "It's unfortunate that we have you as our leader, and we pray God will give us a good leader soon, not incompetent, weak, uncarismatic (sic) person like you, even though we know what happen (sic) at the polls," one Abdullahi Yusuf wrote.
"All it takes for evil to happen is for good people to stand aloof and do nothing (David Hume, 1711 – 1776). This translates into saying that your government is to blame for all security breaches and loss of innocent lives nationwide," wrote one teacher, Omole Davidson, another friend of the President. "Sir, if the lives of Nigerians have any value to you and your government, you would have decisively dealt with Boko Haram and their sponsors. You even refused to prosecute those that were reportedly arrested. If you acted with zeal and fiat against them, Boko Haram would long have been history."
There were other comments by Nigerians, some of them very insulting. One Ekoh described the President as dumb and daft, because his government toyed with the idea of negotiating with the Boko Haram sect behind the bombings in Nigeria. "Where in the world has any government negotiated with terrorists? Only in Nigeria," Ekoh said. One Ihuoma Chukwu, told Jonathan point blank that what Nigerians need is action, from their leaders. But Oluwaseun Akinwade put the issue more succinctly: "One thing worries me more than anything else; why do we ask for too much from GEJ? Are we any more disappointed than we should?"
The bombing campaign by Boko Haram in some northern states and Abuja has been blamed on Jonathan's incompetence to manage the security situation in the country. They see the President's inability to rein in the bombers and bring them to justice as stemming from his lack of guts and the political will to confront their sponsors whom many think are known to the intelligenge services and the President.
The President's apparent "weakness" and "powerlessness" has even provoked comparisons to former president Olusegun Obasanjo. "At least you had a feeling that Obasanjo was in charge when he was president. Jonathan is weak and clueless. It is clear that he is being controlled by some godfathers," a critic said last week in Lagos.
Jonathan has responded to the harsh criticism he gets on Facebook and Twitter by appointing Mr. Bemigho Reno Omokri as Senior Special Assistant on New Media. Omokri has a masters in Law from the University of Wolverhampton, UK.
Many Nigerians are now convinced that the federal government cannot protect them. Every time Boko Haram strikes, the President promises a vigorous response. That kind of response is yet to be seen. Instead, the terrorist group has become bolder and even more dangerous, leaving many Nigerians frustrated. If it took him just one weekend to respond to the recommendation of the National Judicial Council to remove Justice Isa Ayo Salami and just one month to introduce tenure elongation bill, why can't he solve the big problems confronting Nigerians with the same urgency? That is the question Nigerians are asking.
The President shocked Nigerinas in July when he sent a proposed constitutional amendment to the National Assembly on a single term of six years for Governors and Presidents from 2015. The proposals spurred a rash of reactions from political stakeholders and ordinary Nigerians. The bill, robustly condemned by opposition political parties, was described as ill-timed and unnecessary. The parties, including Action Congress of Nigeria, ACN; All Nigeria Peoples Party, ANPP; Congress for Progress Change, CPC, kicked against the proposal. Ordinary Nigerians also believed that the bill ought not be the priority of the Jonathan administration at a time the nation was in dire need of economic rejuvenation and infrastructural renewal.
Though he said he would not be a beneficiary if and when the bill gets passed into law, not many believe him. Many Nigerians see Jonathan as trying to buy himself an extended tenure in office, knowing that the North will be desperate to have one of their own replace him in 2015. The President has said he will not seek re-election. It is believed that he gave the northern governors this assurance in return for their support in the presidential election. However, Nigerians have become increasingly distrustful of the President and they think he may seek re-election. Indeed, many are intrigued that of all the pressing issues requiring presidential attention, the matter of tenure elongation bothered the President the most. Does the characteristically slow Nigerian President show some haste only when he stands to benefit? Maybe.
One issue that has made Nigerians even more deeply distrustful of the President is the way he handled the conflict between the former president of the Court of Appeal, Mr. Justice Ayo Salami and the National Judicial Council. Writing in the 27 August edition of The Nation, columnist Segun Ayobolu noted that the former Chief Justice of Nigeria, Aloysius Katsina-Alu has helped to unveil the true colour of President Jonathan. "The swift and brutal way in which the deceptively simple and unassuming President Goodluck Jonathan moved illegally to remove the President of the Court of Appeal and appoint an acting President of the court is instructive," he wrote.
He added that Jonathan preaches the rule of law "but has shown he can thrust a dagger into its very heart with clinical efficiency while maintaining a straight face. His is a very dangerous presidency precisely because of its subversive, almost unobtrusive subtlety."
Unemployment is rising in the country, and what particularly frustrates Nigerians is that they do not see how the President intends to solve the problem. In the United States, unemployment rate stands at 9.1 per cent. In Nigeria more than 50 percent, but the American President, Barack Obama has shown a will to tackle the problem that the Nigerian President has yet to show.
Obama, on 7 September, wrote a formal letter to House Speaker, John Boehnes and Senate Majority Leader, Henry Reid, requesting to address both chambers on his plan to provide jobs to Americans. "Our nation faces unprecedented economic challenges and millions of hardworking Americans continue to look for jobs," wrote Obama who described creating jobs for Americans an "urgent mission" in the letter.
For President Jonathan, whose pre-election advert promised ''a breath of fresh air,'' very few know what his government is doing: or how it intends to solve the myriad of problems confronting the nation. Jonathan has also not been fulfilling his promises to Nigerians. He promised to flood his cabinet with technocrats who will bring about the desired change. However, a look at the ministerial list shows it is dominated by career politicians.
Not a few Nigerians were taken aback by the fact that the President went ahead to pick Mrs. Dieziani Alison-Madueke as minister despite her incompetence as Transport minister, the scandals that attended her time as Petroleum Minister and the fact that she allegedly "dodged" national youth service. Ordinarily, these ought to have disqualified her.As Transport Minister, Alison-Madueke was probed by the Senate over alleged improper payment of N309 billion to contractors between 26 and 31 December 2007, but she was never charged or tried over the allegations.
In October 2009, the Senate indicted Diezani Alison-Madueke and recommended her prosecution for the alleged transfer of N1.2 billion into the private account of a toll company without due process and in breach of concession agreement. Again, she was not charged to court. The Jonathan administration spends a lot more on salaries and allowances for unneeded political appointees and self-serving elected legislators, than on roads, education, health and power combined.
The power situation has not improved despite official statements to the contrary. More and more manufacturing concerns are dying due to the very bad electricity situation. Government seems powerless.
According to statistics at the disposal of TheNEWS, in the last four years, government has frittered away over $200 billion of oil and non-oil revenues, including over $23 billion the previous administration left behind in the Excess Crude Account, ECA, which was designed to create savings from revenues above the budgeted price of oil. There is little to show, however, for the spending. About a third of that amount was spent under Jonathan's watch. As acting President and then President. He ran down the ECA to less than $500 million from the over $6 billion he inherited, sharing out the nation's savings to state governors.
Jonathan has also been borrowing massively, leading to an intolerable increase in Nigeria's domestic and external debts. According to the Debt Management Office, domestic debt rose from N2,051bn ($14bn) in 2007 to N3,228bn ($21bn) by 2010 in the three years Yar'Adua was in charge. Under Jonathan, domestic borrowing within a year rose to N4,869bn ($32bn), borrowing a massive $11bn in less than 12 months. External debts also increased from $3.719bn at the end of 2009 to $5.227bn by March 2011. No big investment in infrastructure has been seen despite the very high oil prices the administration has been enjoying.
The reality that stares Nigerians in the face is that the government is clearly uninterested in cutting cost in line with present realities.
On 20 January this year, the General Theophilus Danjuma-led Presidential Advisory Council, PAC, advised President Jonathan to cut down on his bloated government, especially the huge number of Ministries, Departments and Agencies, MDAs. According to Danjuma, this would allow for more funds for government to spend on infrastructure development.
However, Jonathan defended himself that what he did was in line with constitutional provisions. He said: "Your suggestion for a smaller cabinet is excellent and I agree with you, but this cannot be achieved without constitutional amendment."
That is Section 147 of the 1999 Constitution which gives the President Powers to appoint Ministers states: "There shall be such offices of Ministers of the Government of the Federation as may be established by the President. Any appointment to the office of Minister of the Government of the Federation shall, if the nomination of any person to such office is confirmed by the Senate, be made by the President,
Any appointment under subsection(2) of this section by the President shall be in conformity with the provisions of Section 14(3) of this Constitution, provided that in giving effect to the provisions aforesaid the President shall appoint at least one Minister from each state, who shall be an indigene of such state."
In other words, if each state and geo-political zone is to be represented in the government, then there was no way that the number of ministers and junior ministers (in Foreign Affairs Ministry, there is a minister and two ministers of state) would not be large. The shame is that President Jonathan has not proposed an amendment to the constitution on this matter. Instead, he has got for himself more ministers, special assistants and advisers at tax payers expense. He appointed Rene Omokri, a Special Adviser on New Media (Facebook, Twitter etc) and Sarah Jubril, Special Adviser on ''Ethics.'' Internal security must necessarily be priority of the Jonathan's administration, but the fact that the government has not been able to stem the killings in Jos and other places and the Boko Haram insurgency has given Nigerians the notion that the government is grossly incompetent. Government has merely been sending soldiers to Jos, Maiduguri, Abuja and others without having valuable information about the enemy.
Worse still, the President does not even utter the right words in the aftermath of such needless killings. President Jonathan's statement at the site of the bombed UN building in Abuja, that perhaps it was Nigeria's turn to be hit by terrorists has convinced many that his government does not know what it is doing. Critics say the fact that terror is a global phenomenon is no reason why government should not tackle it frontally. Is abnegation the appropriate response? Certainly not. Some Nigerians spoken to last week in Lagos warned that government's inaction will certainly encourage terrorists to spread their tentacles and turn Nigeria ultimately to Pakistan, Afghanistan and Iraq.
The fact that prices of goods and services have been going up without a serious effort to keep them down adds to the frustration of Nigerians with the Jonathan government. For some time now, the prices of kerosene, diesel and aviation fuel have gone up, with government efforts to bring them down clearly not succeeding. For example, the fact that aviation fuel now sells at N180 per litre has pushed up air fares automatically. Stakeholders say if the price does not go down, in no time the Nigerian aviation sector will collapse.
Cement prices too have been going up, critically affecting the building sector. The President called a meeting of manufacturers and directed them to bring down the prices. They complied and the price came down, but it was only for a short period as the price has gone up again, even higher than before Jonathan intervened. This has only reinforced the frustration of Nigerians with the government.
The President has told Nigerians to be ready to sacrifice, meaning he wants to come up with some belt-tightening measures, including potentially, fuel subsidy removal. But Nigerians expect him to start with his own cabinet– full of so many unneeded political appointees – and fight corruption frontally. They want him to plug so many areas through which the resources of government are leaking, before he can expect Nigerians to buy his belt-tightening idea. The Nigeria Labour Congress has vowed to resist the planned subsidy removal; which will certainly bring so much hardship on Nigerians.
Presidential spokesman, Reuben Abati, however, dismissed the notion that Jonathan's popularity has dipped. He credits the administration with so many achievements (see box) and assured that the future of Nigeria under the Jonathan presidency is bright.
Such assurances will hardly impress Nigerians until they begin to see and feel the breath of fresh air Jonathan promised them while vote-hunting five months ago.
For more stories, visit www.thenewsafrica.com
–Babajide Kolade-Otitoju. Additional reports by Oluokun Ayorinde/Abuja and Folarin Ademosun.

Load more