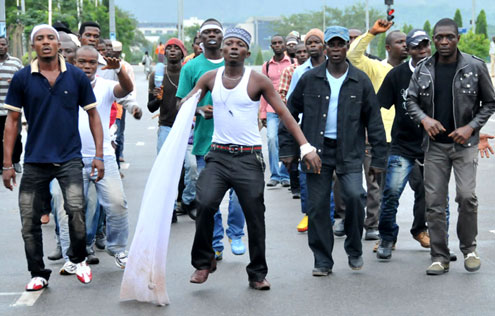 At least 1,000 ex-militants from Bayelsa, Rivers and Delta led by General Para Ekiye as early as 5 a.m. today blocked the East/West road at Mbiama Junction, Bayelsa State, protesting neglect by the Presidential Committee on Amnesty Programme.
Thousands of motorists and early travellers along the major East/West road were stranded during the protest.
Speaking to P.M.NEWS on phone this morning, General Para Ekiye confirmed the peaceful protest.
He said further: "We are tired of being neglected and being tossed around by the Federal Government through Honourable Kingsley Kuku, the Special Adviser to the President on Amnesty. We want our guns back since they don't want to rehabilitate us like they have done to others.
" As I talking to you now we are ready to die on this road until the Federal Government hears us. The police,the Joint Task Force are all here but we will not leave or fight them because we don't have guns. We just want to be heard and we will leave here."
When reminded that President Jonathan is just 100 days in office and his administration has had enough distraction from terrorist attacks and insecurity, Ekiye said: "We are the people who voted him in. We are neglected. Kuku and some of us fought together in 1991 in the Warri war. Today, he is oppressing us.".
Despite several calls put across to Lt. Colonel Timothy Antigha, the spokesman of JTF for his reaction to this incident, his phone rang ceaselessly without any response.
At press time, vehicular traffic, social and economic activities were paralysed, while JTF and the police are said to be appealing to them to remove the blockades.
East/West road is the only major road that links states across the South-South geopolitical zone.
—Okafor Ofiebor/ Port Harcourt

Load more