Staff and visitors to the Ikeja Local Government secretariat, Ikeja, Lagos State, Southwest, Nigeria, were ordered out of the council premises today following the discovery of an object suspected to be a bomb.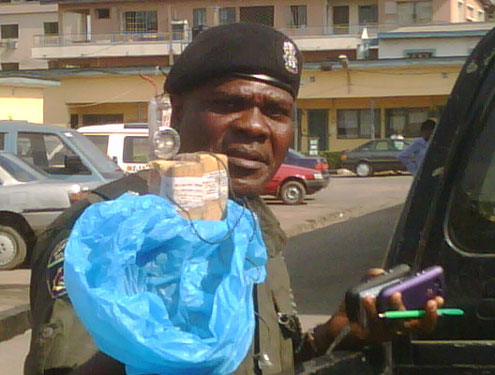 The object, attached to a wall clock and kept in a blue cellophane bag, was found at the back of one of the buildings in the secretariat by the workers.
The workers quickly raised alarm and were later evacuated from the premises.
After the staff and visitors had been sent out of the premises, the council invited men of the anti-bomb squad, from the Lagos Command of the Nigeria Police, led by DSP Umoren E. J, who detonated the explosive and took it into to their vehicle.
Mr. Wale Odunlami, the chairman of the council, doubted that the object could be a bomb.
He said: "Some members of the staff saw something that looked suspicious and they alerted us, and we went round to observe and ordered them to move out.
"After looking at it, though, it looked like a toy, it also looked suspicious. We then called in the policemen who used their anti-bomb equipment to test it and removed it.
"They have not told us if it is bomb or not. What we have done is to prevent any eventualities," Odunlami said.
Mr. Samuel Jinadu, the Police Public Relations Officer, said it has not been established if the object was a bomb or not but that it will be tested to confirm.
By Paul Sanusi

Load more