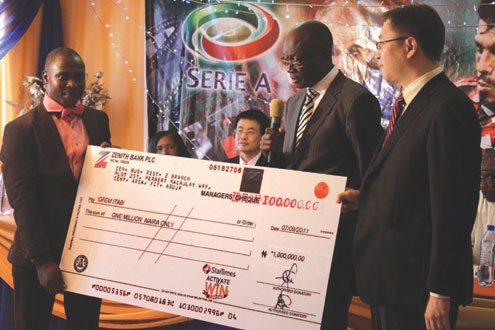 A 28 year-old Corporal in the Nigerian Police, Ofem Itabi has emerged as the N1million grand prize winner in the just concluded StarTimes Activate and Win Promo.
Ofem Itabi's smart card numbers was luckily selected from a poll of over 40,000 subscribers who participated in the promo, at the grand finale draw held at Matori, Lagos.
Five Other lucky subscribers from five regions where StarTimes operates also won N100,000 each. They are Hyekuzuku Nagada, Agoro Aminat Aderonke, Ekeh Pascal, Umah Bala and Phillip Collins.
Over 100 LCD and CRT Televisions were given to winners in the anniversary promo which lasted from July to August, 2011. Over 200 subscribers also went home with consolation.
During the prize giving ceremony held at the Nigerian Television Authority (NTA) premises in Victoria Island, elated Ofem Itabi said he was shocked when he was told on phone that he had won the N1million StarTimes promo jackpot.
Ofem who hails from River State, disclosed to PM News that he woken up from a dream where he was crown as a king, when his phone rang and he was informed about the development.
" I just woke up from sleep when the news got to me. In my sleep, I actually had a dream where some people were putting crown on my head. Immediately I woke up from the dream, my phone rang. When I picked up the phone, I was told that I have won N1million in the StarTimes promo. Immediately I shouted 'praise the lord."
Shocked Ofem also jokingly said " I didn't know that a dream can come true like this Oh…"
Ofem said he did not quite believe the news until the N1m check was presented to him. He thanked the management of StarTimes for making good their promise and called on Nigerian to patronize the StarTimes pay television.
The publicity Manager of StarTime, Mr. Celestine Umeibe at the occasion said his company apart from making good the promise of rewarding its customers, have also added more channels to their platform to further enrich the content programs.
He said " When we began this promo, we promised to truly reward our subscribers and today you can see that we have lived up to that promise. Aside this, we have also added more stations to our bouquet so that our subscribers can have a wonderful experience using StarTimes decoder.
"Aside the free to air media rights for the UEFA Champions League and UEFA Europa League for sub-sahara africa we acquired recently, we have also gone a step further to secure the Seria A right for 2011-2012 football season"
—Henry Ojelu

Load more