Men of the Lagos State Anti-Robbery Squad, SARS, have foiled an attempt by a 21-year old housemaid, Chinansa Ozoemina, to kidnap her boss, John Ike Azota, a staff of an oil company in Aguda area of Surulere, Lagos State, Southwest Nigeria.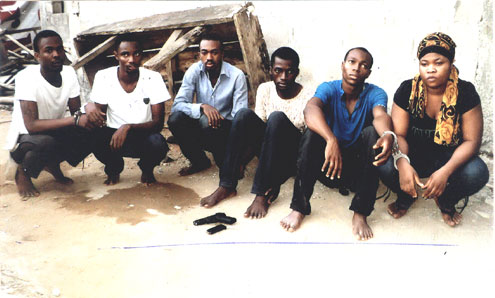 When the SARS operatives led by Superintendent of Police, SP Abbakyari, foiled the kidnap attempt, Ozoemina was arrested alongside her boyfriend, Okoye Raphael, at their hideout at Adeniran Ogunsanya Street, Surulere, Lagos.
Four other suspects, Chukwudi Ikeji, 21, Nwaokike Ugochukwu, 24, and Osondu Njoku, 26 and a man simply identified as Obiora were also nabbed in connection with the plot.
P.M.NEWS learnt that the housemaid, Ozoemina, initiated the 'business' when she informed her lover, Raphael, that his boss is a wealthy man and they would make millions of naira if he could be kidnapped.
Raphael agreed with his lover and contacted Njoku who allegedly recruited other members of the gang including Ugochukwu, who is said to be the owner of the gun they planned to use for the operation.
It was gathered that unknown to the kidnappers, a police detective had infiltrated their group who played along with them.
Before they actually carried out their plans to abduct Azota, who is an engineer with an overseas oil company, the detective had informed his boss in the SARS about their plans.
They were arrested at their hideout and police commenced interrogation of the suspects immediately.
According to sources, the suspects have made useful statements to the police in connection with the foiled kidnap attempt.
After the completion of police investigation, the suspects will be arraigned in court.
Contrary to Ozoemina's claim that she innitiated the kidnap plan, Raphael claimed that he actually did.
Raphael told P.M.NEWS: "I was dating Ozoemina. I told her that her boss is a millionaire so I asked her if could kidnap her boss, would he pay and she said yes. I contacted my friend, Njokwu who agreed to work with us."
Njokwu said: "Though I agreed to work with Raphael, I have no gun, therefore I contacted Ugochukwu who got his friend from Anambra State, Chukwudi Ikeji."
On his part, Ikeji said: "We attended the same school. I told him that I would release the gun because of him and I would collect N400,000 as my charge. I told him to wait and I went inside the house to pick my brother's gun where he kept it. My brother is based in America, I gave them an American made pistol with eight 9mm live ammunition."
Ikeji and Obiora later arrived Lagos with the pistol but they were arrested from where they gathered to plan the kidnap.
—Dedeigbo Ayodeji

Load more