The State Security Services on Tuesday arraigned eight suspects believed to have planted the bombs that killed 16 people at the Independent National Electoral Commission's office in Suleja, Niger State on April 8. They were arraigned before an Abuja Magistrate Court presided by Chief Magistrate Oyebola Oyewunmi .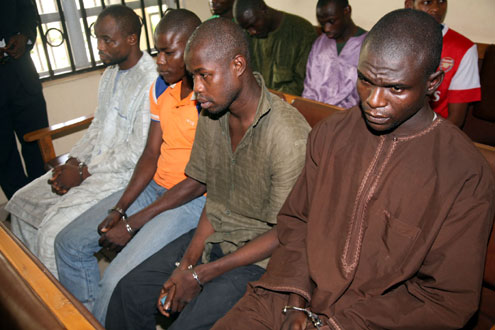 The accused persons are Shuaib Abubarkar, Muhammed Dalhatu, Salisu Ahmed, Ahmed Hasaan, Umar Baba Gana, Muhhamed Alli, Musa Adamu and Umar Ibrahim. They were brought before the court at about 1: 40pm by heavily armed SSS operatives and a detachment of armed Mobile Policemen.
They were alleged to have conspired to do an illegal act to wit, planting and detonating explosives at different places which caused grievous bodily harm and killed about 22 peoples at different places.
Apart from the 16 people killed at INEC office in Suleja, the suspects were also said to have been responsible for the killing of three people at All Christian Fellowship Church in Suleja and another bomb that killed three people in Bwari.All the suspects but one pleaded not guilty to the charges, while one of them, Ahmed Hassan, pleaded guilty to the offence of conspiracy to transact illegal arms and confirmed allegiance to the Boko-Haram sects alongside Salisu Ahmed, also an accused, since 2008.
He narrated how one Barsha, said to be at large, enjoined them to revenge the death of the late Boko-Haram leader Muhammed Yussuf, and asked them to procure cortex cable from a mining site in Nassarawa state.He also told the court that Barsha taught them how to use AK47.
An SSS source said that Hassan's mother is from the southeast while his father is from Niger Republic.The remaining seven suspects said they did not know anything about the charges read to them.
All the suspects are very young within the age bracket of 20 and 35. The charges were first read out in English and latter translated to Hausa by the court's registrar.No lawyer represented them in court. When Chief Magistrate Oyebola Oyewunmi told them they have a right to be represented by lawyers, they all said that they had no lawyers.
Apparently not ready for the trial, the prosecutor, Mr. Chris Osagie, asked that the case be adjourned. He said that investigation had been concluded but that new arrests had just been made which necessitated the request for an adjournment.
The trial was adjourned to October 4, 2011. The suspects were to remain in the custody of the SSS.
By Nnamdi Felix / Abuja

Load more