American rap star, Curtis Jackson, aka 50Cent has been forced to drop the title of his soon-to-be-released multi-million dollar movie, Things Fall Apart.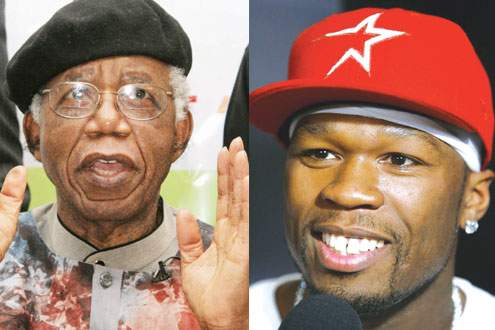 Showbiz Trends gathered that the foundation managing the works of renowned literary icon, ​Professor Chinua Achebe,​ won a fierce battle with the producers of the biopic, written and acted by ​50Cent​, over intellectual infringement.
It is learnt that when the news about the movie came out, the foundation had written the movie producers to intimate them of an infringement bothering on a novel written by Achebe. But the producers took it with levity and scornfully offered to pay a paltry $1million (N150million) to the literary giant because "50Cent would rather want to keep the title," a source said.​
However, the foundation's lawyers categorically declined the offer and informed the producers that "​the novel with the said title was first produced in 1958 (17 years before 50Cent was born), listed as the mostly widely read book in modern African literature, and will not be sold for even $1billion".
Given the tough stance of Achebe's legal representatives, the movie producers and the marketing company distributing the movie, ​Image Entertainment​, convinced 50Cent to change the title to ​All Things Fall Apart​, to avoid a potential huge loss if they have to settle for another title altogether.
—Funsho Arogundade

Load more