Wife of the Governor of Lagos State, Mrs. Abimbola Fashola has commissioned two boreholes for the use of residents of Oremeji area of Mushin, Lagos, South West Nigeria.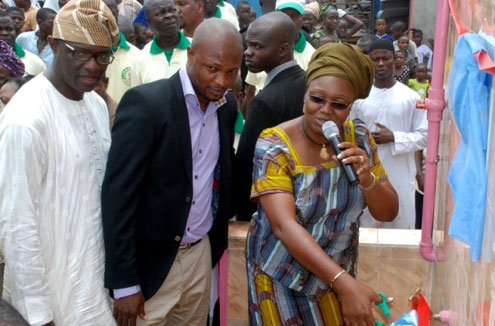 The two boreholes were built and donated to the area by Core Media Services. The water projects would deliver to the area 30, 000 litres of water per day.
Commissioning the boreholes on Wednesday, Fashola said the project was part of the dividends of the Public Private Partnership, PPP, initiative of Governor Babatunde Fashola.
She said it was in line with corporate social responsibility for Core Media Services to provide the boreholes for the community and commended the outfit for the gesture.
Fashola stated that there was no way government alone could provide the needs of the people but it could partner with organizations like Core Media Services to deliver worthy projects to the society, stressing that with a project that would deliver 30,000 litres of water to the community daily, the residents could be assured of clean water.
She enjoined the residents to use the water projects effectively, preventing wastages and takes proper care of the facilities so that they could last long, while she called on individuals and private bodies to emulate Core Media Services by coming to the aids of communities to provide what they needed.
Managing Director/Chief Executive Officer, Core Media Services, Mr Olajide Adediran said he got to know the enormity of the challenges confronting Lagos State when he was on Fashola's team on a tour of communities in Lagos in 2007.
He said this was what moved him to action and he decided to impact on the community where he grew up by providing the boreholes in the area.
Adediran added that two 2.5 KVA generators had also been provided for the community to pump the water when the Power Holding Company of Nigeria cuts power supply.
Chairman, Mushin Local Government, Hon. Olatunde Adepitan said the project would go a long way in solving the water problem of the area, describing the gesture as a worthy one.
He also called on individuals and private bodies to complement government's efforts by providing social amenities for communities in the area, adding that the state government had done much for Mushin residents.

Load more