Crippled mother of four, Patience Ogbeide is set to launch her album and will also be performing on stage for the first time in her career on 24 September , 2011 at the St. Leo Catholic Church, Toyin Street, Ikeja, Lagos, Southwest Nigeria.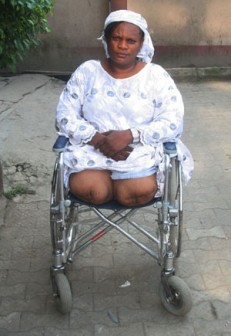 The Sapele-born woman who lost her legs to an accident in 2007 while selling newspapers, explained to P.M.NEWS that the money realised from the launch would be used to buy prosthesis worth N10 million for her to be able to walk and resume work again.
According to her, "I know I can work again and I am sure the prosthesis will help to get my life together. I am appealing to kind-hearted Nigerians and the governor of Delta State, Dr. Emmanuel Uduaghan and Governor Babatunde Raji Fashola to attend the launch and assist me.
"Despite my status, I still cook, fry chin-chin; I prepare bottled groundnut and I give my children to sell for me. I am advising and encouraging others like me not to be idle but to do something to help themselves," she stated.
She attributed her success so far to her husband who she said has really motivated her and after 22 years of marriage has not stopped loving her.
The album titled: "THANK YOU" is dedicated to all that have been supporting her, including her friends, media houses, medical centres and religious groups.
The album is a joint effort between her and her husband and only one track out of the ten tracks was an individual performance where she thanked her helpers.
Patience said: "I explained a lot about myself in the album; how my mother left me while I was a baby and I had to be raised by my step-mother; how I grew up in a family where my father had seven wives and 25 children and how I met my God-sent husband."
—Tunde Omidiji

Load more