The Nigerian entertainment industry was once again thrown into mourning yesterday as promising singer, Obiajuru Nwozo, popularly known as MC Loph, 38, died in an auto crash along the Benin-Ore road yesterday.
The Osondi Owendi Remix crooner, who was driving the vehicle, died alongside his elder sister, Chinwe, while his fiancée who was also in the car is currently in a critical condition.
He was on his way to Anambra State to conclude preparations for his traditional marriage scheduled to hold this Saturday, 17 September, 2011.
The death of LOPH (meaning Lord of Pure Hip-Hop) is still a huge shock to his colleagues, who described him as a wonderful personality and one of those with great potentials of giving Nigerian Hip-Hop a new face. Some of his colleagues even said they can't find the right word to describe him because he was just too down-to-earth.
Peter Okoye of P-Square fame said "he was a wonderful person. It is so sad because we communicated some months ago about working on a song together, and now he is no more. May his soul rest in peace."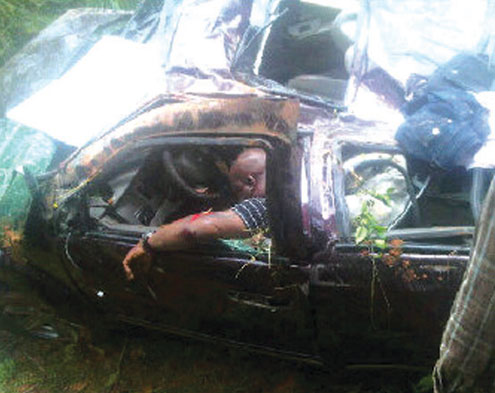 In his own reaction, music producer and singer, Solomon Oyeniyi, popularly known as K-Solo, blamed the President Goodluck Jonathan-led Federal Government for the death of Loph.
"It is another great loss to the industry. He was a very hard-working and skilled man. I want to see what the president (Jonathan) will do because the government's bad roads caused his death. Even if he had survived that accident, I doubt if he would be able to get adequate treatment here because we don't have good hospitals as well," K-Solo fumed.
P.M NEWS gathered that the deceased was the only son of his parents. A native of Umunze in Anambra State, MC Loph lost his father some years ago, but his aged mother, who is said to be hypertensive, is still alive.
Loph rose to limelight with his second album, entitled Hands Up. The album contained the remix of the late Osita Osadebe's evergreen song, Osondi Owendi, which he did with rising singer, Flavour. This eventually gave him the needed attention in the industry. Though the deceased was taken to court by Premier Music over copyright infingements of the song, the case is still in court and yet to be decided until his untimely death.
Versatile singer, Emmanuel 'Kaha' Nzemeke, said "I had known MC Loph since 1995 and as a very gentle and kind-hearted individual. He was a jolly fellow who loves to be at peace with everyone around him. He would crack a joke to make a sad person laugh. He was known to be a humble and straight forward fellow."
Justice Okey Martins, otherwise know as J Martins told P.M NEWS that he is yet to come to terms with the fact that MC Loph is gone.
"This is extremely sad. But I believe he has only gone to rest in the bosom of our Lord because even if he is not here again in flesh, he would always be remembered for whom he was and his works are there to immortalise him," said J Martins.
Tywo Akintoye of Twin-X fame also had this to say about Loph: "I have always believed in making your music speak of who you are and the culture of where you come from. MC Loph did that successfully. He was one of the major artistes who brought much attention to the new Eastern part of this country. It takes great talent to remix a legendary hit like Osondi Owendi and score another hit with it. His death is a great loss, not just to the music industry but to the entire country. May his soul rest in peace."
The sad accident that claimed the life of the musician occurred yesterday when his car ran into a bump on the bad Benin-Ore road. He lost control and the vehicle somersaulted several times before landing inside a ditch.
He and his sister died on the spot while his fiancée, who suffered a broken arm, is still in the hospital.
His untimely death has further heightened the death scare that has been rocking the Nigerian entertainment industry for sometime now. This year alone, the industry has lost icons like Comedian CD John, Kokolete Chidinma, Yemisi Eleto, Ishola Durojaiye, a.k.a. Alasari, Ashley Nwosu, Sam Loco and acclaimed Lady of Songs, Christy Essien-Igbokwe.
—Bayo Adetu

Load more