Asiwaju Bola Tinubu, former governor of Lagos State and Action Congress of Nigeria (ACN) national leader, has dismissed as wicked and preposterous a claim by some online publications, that he and former Vice President Atiku Abubakar allegedly brought terrorism to Nigeria The recent news report purportedly sourced from Wikileaks, entitled "Terrorism: Atiku & Tinubu Brought Al Qaeda to Nigeria" must be seen for what it is : a figment of the imagination of persons behind it and a tissue of lies possible only from political desperadoes who are agents of Nigeria's ruling party.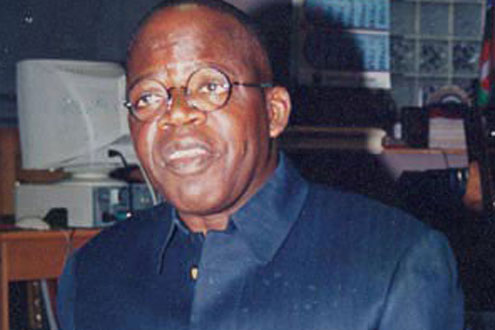 "This claim is not only harebrained, it is patently stupid, for everyone who knows my track record in using the court system to mediate otherwise explosive disputes that could lead to a disruption of the peace," the former governor of Lagos said in his reaction to the online piece. He added that the illogicality of the story is so patent it should have been ignored, but added that he only responded because such harebrained accusations, if unchallenged, could form a basis for nefarious activities by ever-plotting political opponents."Let me make it absolutely clear: there is no iota of truth in the story: not because I say so, but because my profile as a fighter through the judiciary is so clear it is almost self-evident. No reasonable person, aware of all the facts on the ground would give the story any credibility.
This is the handiwork of mischief makers and political blackmailers," the former governor said. Furthermore, the former governor stated that he holds a track record of fostering cordial relationship between Christians, Muslims and other religions. " I have a deep rooted cordial relationship with religious organizations in Nigeria.
I believe in the secularity of the country. I will not join or support any group, party or individual who seek to access power through violence or undemocratic means".2. The allegation which is based on the lies fed to one Dr. Ukandi Damachi by PDP leaders, that "Atiku and Tinubu were supporting this Al Qa'ida /OPC nexus out of political desperation…" is unfounded and objectionable. Most importantly, it has again revealed the level to which the ruling PDP is willing to descend in its attempt to drag down political leaders who do not share their views about how to run this country properly.
This fits into the larger smear campaign and attempts at political lynching commenced by political opponents and detractors of Asiwaju Tinubu.3. Asiwaju Tinubu, former executive governor of Lagos State, categorically denies any link, contact or relationship with Al Qa'ida or any other similar groups that pronounces or employs violence to advance or achieve its goals. In 2005 when a similar allegation was made to link him to supposed terrorist groups, the charge failed to stick. Then, Asiwaju vehemently denied the allegation putting it down to the ruling party playing the dirtiest tricks with the most sensitive of security issues.
The recent Wikileaks revelation falls within this same script.4. In the last two decades, Asiwaju has been fully engaged in the democratic struggle to restore constitutional rule in Nigeria. "I have consistently devoted my time, resources and intellect to the larger Nigerian project of achieving good governance, sustainable democracy through free and fair elections and the rule of law. I have had no time for any detractions".
Tinubu has fully aligned himself with the other peace loving people and governments who continue to work to end the era of terrorism foisted on us all and has at several instances condemned terrorist activities in any form. He averred that he is what he is today because of Western education and the values he imbibed.5. Aside from the innuendoes and figment of imaginations contained in the said diplomatic cable based on low level chatter from Prof. Ukandi Damachi, there is no strand of evidence to hold to in the said allegation.
Indeed, in the said diplomatic cable, the embassy viewed the information supplied by PDP leaders through Dr. Ukandi Damachi about Tinubu's Al-Qa'ida connection with skepticism. "We view these charges with a dose of Skepticism", the consulate stated.6.Again Tinubu denies this charge and calls upon elements bent on seeking his political meltdown to address themselves to governing this country properly especially in the aspects of security, economic transformation and the rule of law."
Our party has demonstrated consistently its preference for the rule of law through the courts in the resolution of political disputes rather than violence. Any attempt to question my democratic credentials at this point will end in futility".

Load more