Succour came the way of about one thousand poor people in Ibadan today as a team of medical experts from United States of America (U.S.A) offered free medical treatment to them.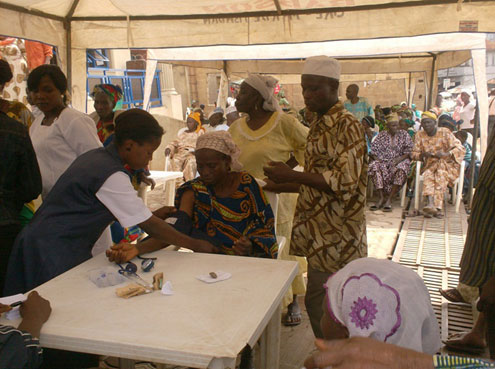 The team which held a day free medical care for the less privileged ones at NAOMI Hospital, Oke-Padi comprises of : by Dr. Tolu Aduroja, Dr. Ayo Obush of United States of America Air force and Dr. louis Ujibo, an Orthopedic Surgeon from Atlanta Georgia.
A member of the team, Dr. Aduroja noted that Jesus House Parish of Redeemed Christians Church of God (RCCG), Birmingham, Alabama, provided some personnel while NAOMI Hospital also provided personnel, drugs and venue.
Dr. Aduroja stated that since they too are Nigerians who graduated from University of Ibadan (UI), they believe that they have to identify with their people and help them out of their medical problems.
According to him, "We are operating under an association called Maternal Cord Association. I am happy today that a project that we have conceived for about five years has been born and become a reality. I attended free schools .I was trained at UCH here in Ibadan some years back ,everything free , so why shouldn't i give out to the less privileged what God and the society had given on to me ?. "
He emphasized that the exercise is going to be a continuous one.Two of the beneficiaries, Elder Jacob Ige aged 73 and Madam Victoria Ogunlana gave kudos to the organisers and urged all other well meaning Nigerians to emulate them .Elder Ige said "When I heard about the programme, I was very happy and I believe it would gives me opportunity to have access to medical care. As you can see, they had attended to me .I wish them more God blessings"
By Gbenro Adesina/Ibadan

Load more