Former President, Chief Olusegun Obasanjo, has said that he has no apology to tender for his visit to the family of the late Yusuf Mohammed, leader of the Boko Haram sect in Maiduguri, Borno State.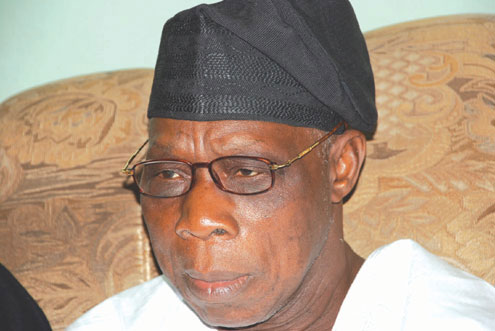 He said the visit was through his personal initiative.
Speaking to P.M.NEWS through one of his aides on telephone this morning, Obasanjo said his visit should not generate any controversy, bitterness or rancour.
The aide told P.M.NEWS: "As of fact, he (Obasanjo) was in Borno State yesterday. I believe that he has the right to travel to any part of the country as he wishes. Why should his visit be a source of debate on the pages of newspapers?
"Series of reports were published in the dailies today on the visit. Baba (Obasanjo) owes nobody any explanation because nobody sent him there. No right thinking person or leader will sit down and watch things get worse and keep silent.
"Drastic issues beget drastic steps. People should stop insinuating unnecessarily. Obasanjo is one out a thousand leaders that are worried over the spate of bombings and killings in Nigeria.
"If he has decided to champion the dialogue course and availed the government of his experience in peace keeping operations, to save the nation of further embarrassment of bomb explosions, I think two things are expected of us in this country.
"First, we should be thankful to God for giving us an experienced man like Obasanjo and second, we should continue to pray to God to give him long life so that we would continue to drink from his cup of wisdom and experience."
Obasanjo, yesterday, visited the family home of the slain leader of Boko Haram sect, Mohammed Yusuf in Maiduguri, Borno State, Northeast Nigeria.
He held a close-door meeting that lasted about two hours with his family members.
A source at the meeting said that Obasanjo had gone to appeal to the members of the family to appeal to the Boko Haram members to sheathe their swords and end the spate of bombings in the country.
Obasanjo also promised to inform President Goodluck Jonathan of the outcome of his meeting with the family.
The former president also condemned the 26 August bombing of the UN House in Abuja. He was in Sierra Leone when the incident happened.
Obasanjo, in his reaction, described the bombing as barbaric, ungodly and inhuman.
Reactions have been trailing the former president's visit yesterday to the family of the slain leader of the Boko Haram sect.
Many Nigerians are of the opinion that there should be no negotiation with the bombers. Rather, they should be brought to justice.
—Biodun Onafuye/Abeokuta

Load more