International reggae music star and Mumbalamube crooner, Oritz Wiliki, was a former executive member of Performing Musicians' Association of Nigeria (PMAN) and presently the chairman of Musical Copyright Society of Nigeria (MUSN). He spoke with P.M. Entertainment about the association, the music industry and other issues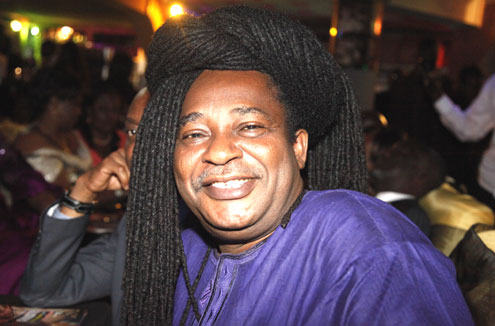 It's been quite some time, what has been happening to you?
Yeah, I have been doing a lot of things, you know, I am seriously into content now and one of the programmes on television is titled Double Ice Out. It is a music magazine programme strictly on reggae and social music. At the moment, it is aired on about 15 stations nationwide and I am also into lots of jingle production.
What happened to your music career, you have not released an album for some time?
That's not correct, we had two releases two years ago, It was a double release, Lift Him Up Higher, that was in 2002 and then Fire Born, which was released two years ago. So now, we have two singles waiting to be released, one is featuring Onos Brisbi and it is something to look out for.
Your latest works are not as popular as Mumbalamube, why?
It costs a lot of money to do promo these days, if you want to spend money on promotion, we are talking of good money, so everybody is getting wiser and as such, gone were those days when a DJ will just like your music and want to play and promote your song. These days, it's money for hand back for ground, so you need to be sure of what you want to promote. If you don't have distribution strategy, it means you are just working for those Alaba boys, so for you to put in such money, you have to be sure that your outlets are ready to distribute it, so it's a lot of investment.
But you will agree with me that Mumbalamube was highly successful apart from One Drop?
One Drop was successful, Tribulation was a monster hit and so was Conqueror and others too.
But Mumbalamube gave you your break?
No, I don't think so, Tribulation gave me the biggest break if you are talking of break, Mumbalamube was just a consolidation just like The Only One did to Good, Bad And The Ugly, the one that featured Edris Abdulkareem. All those were just consolidating my position and that's why we are still relevant. To God be the glory.
During the last Christy Essien's Red Carpet event at the Night Shift Coliseum, you saw Ras Kimono perform and you were quite impressed, so what is happening to reggae music?
Reggae music is part of the reason we are having this programme that we are having now. Reggae music will always be reggae music, you will agree with me that reggae music is no longer in the format it used to be, the root rock. You know, traditional heart rock reggae music has evolved into hip hop and dance hall as well as lots of other genres of music. So, I will say reggae music is the heart of all music and it is from there you still have your hip hop. What we are doing now which I am sure if Bob Marley were to be alive today, he won't be playing the root rock traditional reggae because the world is evolving.
What happens to the low trend, you know there is a difference between rasta and reggae artistes. What's happening to the rastafarian world?
No, we have rastas who are doctors and lawyers, it is only here that we try to bring it down strictly to reggae. We have professors as rastas in Jamaica and London, even so it doesn't have to be that a rastaman must be a reggae musician. So it's like rastafarian is very strong everywhere else. People like Mandators, Kimono and the rest of them, all travelled at a time, but now you have everybody back so the movement suffered some kind of lack of publicity because there were not many of us around and now that everybody is back, things will get better.
Are you still going to revive the rastafarian sect in Nigeria?
You are rasta and rasta is you, so it is a matter of conviction.
But you are not the hard core rastafarian?
How do you mean hard core rastafarian? What's your definition of that?
No eating of meat, dropping of the comb and other things?
No, you don't have to be a rasta to be a vegetarian. In rastafarian, you have great spirituality, so rasta is a thing of chronological individuality. Rastafarian is not a thing you can stand up high and say you are the one who has the authority but Jah. So, you cannot tell me, for example as a rasta, not to eat meat because I will always tell you that the Bible says everything was made holy and perfect and he said, man, take dominion over everything on earth, so you cannot force me. Rastafarian is he who feels it like Bob will say. If you feel it and say the killing of animal doesn't feel right, you know within me and I say I want to do away with the eating of meat, fish or to be hard core vegetarian.
Even the ganja?
Ganja? You know that I don't smoke.
But Bob Marley smoked ganja?
No, it's not only rastas that smoke weed, it is a natural herb that everybody smokes. I think I have a surgeon who is a good smoker of ganja just like cigarettes, the only difference is that its like hard drug and if I want to smoke, I will rather smoke ganja than cigarettes.
Have you tasted something like it before?
We all have our times, you know. I cannot tell you I have never smoked, so it is a natural grass which I won't promote, but those who know its usefulness use it.
How soon do we expect the singles?
The singles? Yeah, the singles will be out, I am sure, before the year runs out. It is something you will love, we are trying to see if we can get good video shots for its release.
In music, there are lots lot of problems including piracy and copyright?
First of all, we don't have a structure and you cannot build something on nothing. What we are seeing at the moment is just the show glamour. Actually, the money in show business hasn't started coming in and I have not seen it. If you watch E Channel, you see the worth of each musician by the flip of a button. You can press on data base and know the worth of an average musician, so how many of us here can you press the button and know how much he is worth? We are not even worth anything because we are not renumerated the way we have worked whereas our counterparts beyond the shores of this country don't work as hard as we do, yet, they make more money because there are structures and until we have structures in place, we cannot enjoy the benefits of our sweat.
So you have made money from your music?
I have not made money from music.
Are you sure?
Yes, I have not made money from music.
Then where do you make money from?
I don't make money from music, I still believe that eventually, the money will still come but its something that is natural with creative people. We all know how rich Fela was when he was alive, Bob Marley died with about four million dollars in his account, but I can tell you, four to five years ago, his estate was over 760 million dollars collected in one year as royalties. If Bob had that when he was alive, you know what would happen, so what I am trying to say is that for a creative person, you just keep working and the benefit will come one day. You may enjoy some part of your money when you are alive, but if your estate is well managed, you can make more and your family will enjoy it.
What about the Musical Copyright Society of Nigeria (MCSN) which you are the chairman and COSON, among others?
We don't have issues with anybody, because our story and opinion is that let there be competition in the sector like any other. In the telecommunication sector, there is compettion, also the pure water manufacturing companies, NAFDAC cannot say we want to regulate or that now that we are regulating, only two people should be producing pure water. You will see that there would have been problem, we told them to get the standard and we are ready.
At a time, it was between MCSN and PMRS, but now, it is COSON led by Chief Okoroji.
The more we have the better for the industry, even the artistes themselves can have a choice. If you don't like what is happening to you in MCSN you can withdraw your right and go to other collecting societies, but if the government has only one in a country as big as Nigeria, it is not something that is coming from a well thinking Nigerian.
But we learnt that MCSN is not a Nigerian body?
No, MCSN today, is the best collecting management company you can think of. We cannot be here and managing only local works, we should do to others outside the country, in fact, as I am here, I have collected for my members whose works have been used in Israel, California and other countries. So, I collect money for artistes whose works are used in Europe. You should also be able to repatriate the Michael Jacksons in Nigeria, It is not a one-way thing.
Have you been able to do that?
We have been trying our best. We have been very effective in that and we have our policy which stipulates that there should be privacy between you and the artiste in terms of the account.
But there have been some allegations that the money collected are not remitted?
No, I challenge such persons to come out and say it.
What about the Federal Government directive on MCSN?
No, it is a case we just won, when NCC failed to understand what we are saying, that there should be only one collecting society. So we took the matter to court and we won.
Were you invited before the formation of COSON?
The only way to answer the question is that for good 10 years, we have tried to come together as one, follow the due process under the merger and acquisition scheme which the then PMRS did not want to follow. It has come to a point that we have come to a conclusion to let it be. So when we were invited through text messages, we told them it won't work.
PMAN, where you once served as the second vice president, is problematic, how do you feel?
It bleeds my heart that an organisation such as ours does not know its left from its right. The time we were there, PMAN was an association you will want to be part of, even banks and other corporate bodies, because we came from bottom zero level and made a difference. But when we left, everything nosedived and part of the problem of PMAN is that until true musicians really come out to say, okay, we want this union to work now. We have lots of carpenters, shoe makers and other non professionals, claiming to be members of PMAN and who cannot come out with issues that will really move the union forward. We must do things right.
During the Charly Boy era, you instituted a case against Dele Abiodun, will you say that was the beginning of the problem?
No, the issue then was that we were having more than one faction and the only way was to go to court to stop any other person from parading himself as the president because in the eyes of the corporate world, you will never be taken seriously.
But Dele won the case after four years?
Did he win?
I am asking you?
Okay.
Do you regret the action?
No, I was doing my job as a serving officer and that was the right decision I had to take.
So what is the way forward now because a case is pending in the court?
So many cases, the appeal case is still there and others, so that is why I was asking about the case you said Dele won, did he win? The way forward is for people to bury their heads in shame and let true musicians take over. One thing that is also happening is that some say we have old and the young people. For me, it is senseless saying some are old school. Will there be new school without the old school? This is the only country we have such dirty things, till tomorrow, Quincy Jones will still earn his respect anywhere Baby Face is, while Baby Face will always be respected anywhere Jay Z is. So, the fact remains that we do not know what we are doing and until we go back to the basics, things cannot work.
—Additional report by Bimbo Obatayo

Load more