Professor J.A. Kayode Makinde, President/Vice Chancellor of Babcock University is to be inducted into AASU Hall of Fame as Africa's Most Outstanding University Administrator for the year 2011 with the "Kwame Nkrumah Leadership Award".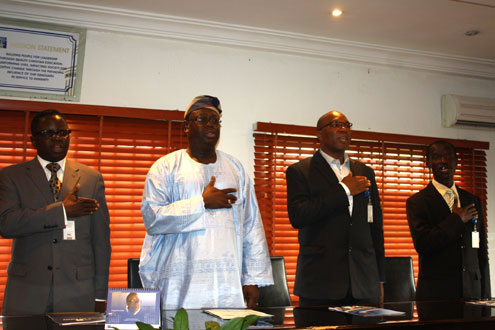 They predicated this on strategic university development in emerging world class physical structures, academic programmes expansion, accreditation and research, as well as the series of laurels won by the university, both as a corporate entity and through her students and alumni.
The award will be conferred in a public ceremony on the university campus on 29 September 2011, while induction into the AASU Hall of Fame will be on the occasion of the "Emerging African Leadership Conference" and commemoration of the 2011 International Students' Day at the University of Namibia, Windhoek on 17 November, 2011.
Professor Makinde, in his response said the international recognition, contrary to normal expectations of excitement considering the formidable challenges, has filled him with awe of God's grace and a newly fired determination to translate the vision into reality and accomplish the mission for which he was appointed and anointed by God – for Africa and the world.
This, he insisted, is not anything personal but result of divine inspiration and commitment in teamwork.
While receiving AASU international representatives visiting from their Accra, Ghana secretariat, in his office, he said, "I am hardly ever in one place for long but always on the move – a travelling salesman marketing excellence in training and human capital development, an implacable hunter in relentless pursuit of pre-determined next level milestones. Notwithstanding my physical location at any point in time, Babcock is always here, and so are other visionary leadership team members to receive the award on behalf of God's own university."
In a related development, Babcock University was recently ranked as the foremost Nigerian private university by Webometrics.
Webometrics is one of the world's widely acclaimed independent university/colleges ranking organization whose main analysis is based on institutional website information.
The research adjudged Babcock's website as the most active, visited and popular of all private universities in Nigeria.
This means that information on the institution is the most sought of all private universities in the country.
Besides, the research ranked Babcock's website as the 12th most frequently visited of all the 117 Nigerian universities.
Curiously, only 78 Nigerian universities made the ranking, whereas 39 others never merited mentioning for failing to meet the irreducible minimum requirements for ranking.
Similarly, Babcock University has been nominated by the All Africa Students Union (AASU) for conferment with the honor of "Africa's Best Private University 2011". This recognition comes even though Babcock University Student Association (BUSA) is not a registered member of the AASU. The union hailed this feat as exceptional in the nation's education history.

Load more