Governor Gabriel Suswam of Benue State spoke with newsmen at the Banquet Hall, Government House, Makurdi, Benue State before leaving for the United States of America with five other state governors. UBONG GEORGE was there for P.M.NEWS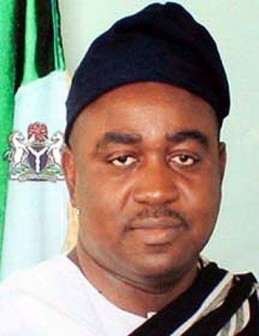 We see some new roads being constructed. Have you started drawing from the N13billion bond?
Yes, we have started drawing from the funds and most of the projects that we started, we intend to exit them possibly at the end of this year or early next year. We are hoping that by the end of this month or early next month, the President will come and commission the water project and some of the roads that we have completed. We are drawing from the bonds and we are paying the contractors. That is why you see that everywhere you go, the contractors are on site in spite of the rains. The water treatment plants in Makurdi, Otobi and Katsina-Ala are all being test-run now.
There is this lingering issue of minimum wage. What is the position of the Benue State government on the issue?
On the issue of minimum wage, I am meeting with the Nigerian Labour Congress, Benue State chapter. We are nearing completion of our negotiation with them. The fact is that some of the issues which are fundamental is that we have been doing some calculation and putting different strategies on the table. It's going to be a very difficult situation for the state but we are going to pay. Now, we are moving from N1.4 billion minimum wage bill to about N2.4 billion. And if we have to pay the minimum wage, a lot of things need to be done. We are going to pay. We will probably hold our final meeting after this meeting with the Nigerian Labour Congress to agree on the modalities. But then like I have kept saying, the civil servants are the ones that handle the monies that come in, and in a month, on the average, we take N2billion. Yes, we take N2.2 or N2.5 billion at times. In a month that we have only N2billion, it then means that all the monies will be consumed on recurrent expenditure and we will be running like local governments and I don't think anybody would want that. You would start accusing me of not developing the state. Would I cut my fingers to develop the state? It is the money that comes into the state that I use in developing the state. And the total population of civil service in Benue is about 21,000. if you put the local government, it's about 89,000. Eighty-nine thousand out of the population of 4.5 million people. So, should we allow 89,000 people which does not constitute 1% of the total population, consume the total money meant for Benue? I just want us to be realistic about this. We are talking about projects. How do we generate money to also apply on these projects? In my previous discussion with Labour, I said I don't think anyone would want to consume all of state's money and we are unable to complete some of the road projects or some of the water projects. While we are meeting, we are putting all our cards on the table with labour so that whatever we agree to do would be something that would be sustainable. We will pay but some auditing would have to be done for us to be sure that we are not paying to ghost workers.
What is your government doing in the area of giving the state befitting relaxation/ recreation centres, parks and gardens to be specific?
The essence of creating the Ministry of Tourism and Culture was for us to have a ministry to properly focus on areas of recreation and tourism. One of the points of reference we have given to the commissioner is to make sure that we develop these parks and she has been putting a lot of materials together as to how they can turn these parks to recreation centres for our children and even for adults. That is ongoing. I am also aware that most of them have been turned into gossip centers where people sit down, drink and gossip.
Your hundred days in office was either celebrated low key or not celebrated at all. Why is that sir?
Hundred days to me is a media hype. If I have a tenure of four years, why should I be assessed in three months? If you need to put proper planning in place, it would take more than three months. If you are doing an economic plan or a feasibility study, it takes between one to six months. And so, I don't think that we should lay much emphasis on hundred days. Hundred days is a creation of the media which puts people on edge and creates unnecessary anxiety.
But within the first three months, I have done a lot of roads. Also there are a lot of rural electrification that are outstanding for commissioning. We have also formed an economic team and names of the members are going to be announced very soon. The essence is to properly settle down and refocus ourselves. So, I would say that if we are going to talk about the first hundred days which is about three months, then we have properly settled down. But I don't think I would want to be judged within hundred days if I have a tenure of four years.
The road from Otukpo to Utonkon was well constructed but now, heavy vehicles are passing that place and have spoilt the road.
The design for trunk A roads which are federal highways is different from the design for rural roads. The money you use in constructing trunk A roads is so much that most states can't pay. But unfortunately, most roads which you design as rural roads are now being used 24 hours by trailers and you know the heavy traffic coming from the south, all of them have been diverted to this road. Recently, I went to Otobi to inspect the water works and I saw trailers plying that road because the trunk A road is bad. And that is why we are having the situation that we are having. I think it's very bad that roads that are meant for the rural people are now being used by heavy vehicles. That explains why the Federal Ministry of Works would have to do quite a lot in addressing the issue of rehabilitation of their roads.
Pensioners in Benue state today complain that they have no hope and the future cannot be ascertained. What do you have to say about that sir?
I inherited accumulated pension arrears of close to N3billion. But since I became governor I have been paying pensioners. I think every month we pay about N30 million to them. We are trying to see if we can get some financial institutions to fight that debt and that, the Head of Service is working on it so that we will be able to pay the backlog. And once we pay the backlog, we will be up to date. It's the backlog that is the problem. Those that I met, we pay them their entitlements every month but the backlog is the one they are complaining of. To get N3 billion to offset that one is the problem. So, we are negotiating with some banks to buy the debt. It means that there must be some discount.
We will like to find out when the Local Government Elections are going to hold?
We intend that local government election be held early next year. The BSIEC has given me the cost and it's a lot of money and we are trying to put that money in place. We need to also properly settle down. So, we will hold the election first quarter of next year.
Recently, a section of the Modern Market was demolished. Are you aware that most of your subjects have been displaced economically because of that demolition and there is no arrangement to give them another place to do business?
If you have been to the Modern Market, what was there was an eyesore. It's either that we allow illegal structures to take over the place, or we demolish it and properly refocus the market. Any person who wants to do business in a well constructed market must have a shop. If you don't have a shop, it is not on sentiment, it is business. It is not that Benue people want to have shops there and they were refused. Any person who comes there to take a shop pays. So, we are doing business and business is not operated on sentiment. And so, for those that illegally put up those structures, we are demolishing them. I have allowed the commissioner to refocus the market, we are going to repair the market and make it a Limited Liability Company and those who own shops there will know that they have protection. The way the market was, there were a lot of criminal activities going on because there were a lot of illegal structures. People who were not paying any revenue to the government were occupying the place. We are doing that so that we can properly refocus the market. And not to throw any person in the street.
During previous interaction with you like this, you told us that you were going to concentrate first on roads after which you would come to Housing. Till today, there is no housing estate embarked upon by your administration and the private estate developers have failed. What are you doing about it sir?
On the estates. As I speak now, the state is constructing an estate close to the Owner Occupier on the new road that I built there. There is also an estate which has been completed along Abuja Road, that estate is done in partnership with the state government. We have 100 units of flats there for civil servants. But people need to pay. In Naka Road, we also have 45 units of flats.
Only recently, you went round the Makurdi metropolis and gave a directive that you want all the drainages opened, access roads and all. But up till now, there seem to be little or nothing that has been done even as flooding has continued to be a big problem.
The drainages we need to do, most of them we need to construct. And the ministries that are saddled with that responsibility are doing the drawings and all of that. It's not something that you just haphazardly go into. Most of the drainages will need to be reconstructed to re-channel water. That is going on and I believe that in the next few weeks, they will be ready with the drawings and then we issue the contracts out.
Looking at the transport sector of the state, you would observe that the influx of what people call Keke NAPEP. Is the state government doing that to actually phase out motorcycles?
We are not phasing out okada but in an open market, we cannot operate a monopoly. Monopoly creates a problem in the market. That is why we are opening up the market to people. The Keke NAPEP you see are brought in by an individual and not government. It's an individual who has seen an opening. He bought them and is now giving them out to young men who are interested and they are paying him back. It's not being done by government. Any person who has money to operate even a rail line, we will give him the right to do so. It's an open market so any person can come. That is why you have this individual who is doing that. You know that the state is operating a taxi service. Other individuals who have cars have now turned there cars into taxi service in the night, and they are making money. So, this is an open market. What we need to do is to give a direction. Before we started the taxi service, no person thought that it was possible to operate taxi service here profitably. But taxi operators are making a lot of money. And because we started it, people have now keyed into it. Somebody has started Keke NAPEP. May be other individuals will also buy it and bring and government also is thinking along those lines as a way of getting young men busy. We can have it in Otukpo, Gboko and in Makurdi. But for now, it's an individual who is doing that. But we are not phasing out okada.
On assumption of office, you sacked your Special Assistants and Personal Assistants. Up till date, you have not re-appointed them. Most of them are roaming the streets hoping that someday, you will appoint them. We would like to know why the state government has not done that. Is it that the state government is burdened by the financial implication of paying them?
We will appoint SAs but we are now doing it properly. We want people who can add value. So, we have been working on it so that we get individuals who can add value. It's not just going to be appointment based on political patronage. Yes, we will patronize our supporters but only those who can add value to what we are doing.
What is your position on the six-year single tenure being canvassed by the President.
I have said this several times. Personally, I will support a single tenure of six years for governors and for the president. And I have reasons for that. For a very long period of time, people have agitated that they are being marginalized. How do we solve this given the fact that Nigerians are very impatient? I think the president has this at the back of his mind. If we have a single tenure of six years, it reduces a lot of things. First, it addresses the issue of people feeling that certain group of people are monopolizing the presidency or governorship. So, you have single tenure of six years in the constitution. I want to add a proviso to that, that the issue of zoning must also be constitutional so that we have single tenure of six years from this zone and once it finishes, it moves to another zone. So, it's not just a six years single tenure that should be provided for in the constitution, zoning also should be constitutionalized so that no single group of persons monopolize the highest office even in the state or in the country. That would solve the problem. There is also another proviso. Provided that those of us who are exiting, that is any person who is exiting does not benefit from it. The governors who are elected for the first tenure under the constitution were elected under the constitution that provides them to contest for a second tenure. Those ones will continue. But for those of us who are doing our second tenure already, we should not come back and say this is a new constitution and we want to contest. That should also be made clear to Nigerians that those who are exiting should not benefit from the six years single tenure.
If we say for instance in Benue that it's a single tenure of office for governors and that it should be zoned such that once this zone finishes, it moves to the next zone and on and on like that, it addresses a lot of issues. It also reduces the acrimonies that go with second term elections. You know what I experienced, how you the media people were highly divided.
If I was exiting at the end of my six year tenure, these acrimonies won't come up. Other new persons would be coming in and so, people would not be that anxious and edgy. And so, I think that the six years single tenure proposal will address a lot of problems in this country, and I think that people should support it. People are trying to play politics with it. Well, the President has not presented that proposal yet but if that proposal is presented, I as a person will support it but I will not be a beneficiary of the single tenure. So, I don't think there is anything wrong with the proposal.
We should all support it so as to address the issue of acrimony and marginalization that most Nigerians have cried of. It will help. So, I am in full support of that proposal when it is eventually presented to the National Assembly and I urge you to also support me in my support for the six year single tenure of office provided that I do not benefit from it.
May we know what really is happening to the state owned Benue Links Company?
The Benue Links is a big problem like you rightly observed. I inherited Benue Links and I have said this, that Benue Links has not contributed a dime to the revenue of the state. What I met was unfortunate. I want to try to see how we can revive it and that was why we allowed Benue Links to go into that transaction which you mentioned. That transaction ran into troubled waters and that is where we are. We are trying to solve it. In fact, the new MD of Benue Links was with the Commissioner yesterday because we need to get buses in. Most of the buses you see there are owned by private individuals. In fact, we met less than 10 functional buses that were owned by the state government when we came in. so, we want Benue Links to revert back to its former glory. And so, outside of the MD, we are re-organising the place so that we can refocus it to attend to the people of Benue other than private individuals who took over Benue Links. Yes, they have taken a loan and that is being sorted out. Also, we are changing the management of Benue Links.
Sometime in your first tenure, you promised to make Makurdi, a state capital that is second to none in the country. You actually commenced work with the roads and then, you also installed the street lights. Most of those street lights are no longer working and a lot of people are worried. So, what is actually happening?
You know the problem with new technologies is that most times when we rush into it without knowing the nitty-gritty, we run into problems. We put those street lights with the understanding that since we have epileptic power supply, this will be more sustainable. But we discovered that the maintenance of those street lights to a large extent more than even having light from PHCN.
However, we have invited some foreign company based in Abuja that produces some of these lights. They have come and done an assessment. There is a modern technology that the bulbs can last for two years. Though that is slightly more expensive, we have asked them to come and they are coming back to give us the bills and I hope that we will have them back in the next few months. I have also been very worried when I go out in the night and we can't have the street lights. We have taken note of that and we are working on it.

Load more