Men of the. Lagos state OP MESSA Patrol Team on Sunday evening apprehended six men including a Police Constable, Nicholas Ode attached to the State Police Headquarters, Ikeja, for driving against traffic along the Agege Motor Road at Oshodi.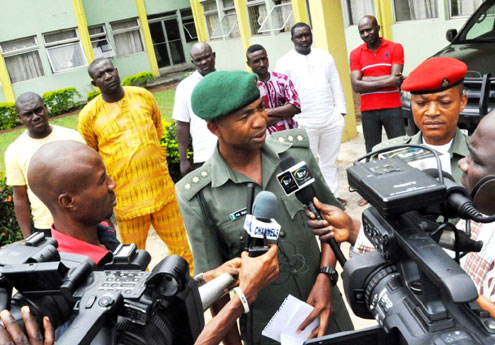 Briefing newsmen on the arrest at the 9th Brigade Headquarters in Ikeja, the Brigade Intelligence officer, Captain A.A. Malagwi said the six men including the policeman was arrested at about 21 hours (9.00pm) while driving dangerously in a convoy of two vehicles on Agege Motor Road.
Captain Malagwi explained that the men who were arrested on suspicion of being criminals and were given the confidence to drive against traffic because they had a Policeman among them would soon be handed over to the Police for further investigation and prosecution.
Also in an interview, the Brigade Commander of the 9th Brigade, Brigadier General Sanusi Muazu reiterated that everyone should have at the back of their minds that nobody is above the law, stressing that the arrest by the OP MESSA is more worrisome because a law enforcement officer who is supposed to be the custodian of the law was part of the law breakers.Brigadier Muazu said considering the time of the night when the men were arrested, the security men feared that they could be criminals and immediately apprehended them but that a search of the vehicles did not reveal any weapon.
He assured all residents of Lagos that security agents would provide the necessary security cover for them as they go about their normal lawful businesses stressing that the observation of the rule of law is the beginning of any civilization.
Also speaking, the arrested policeman who is a driver to the Deputy Commissioner of Police in charge of administration at the Force Headquarter, Ikeja, Constable Nicholas Ode admitted being in the vehicle that was arrested for violating the traffic law but gave the excuse that he was being conveyed from the hospital where he had gone for treatment following an accident he had earlier in the day.Others arrested included Henry Ameh, Mohammed Danlami, Michael Ameh, Augustine Ameh and Austin Ogunshakin

Load more