Lagos State Governor, Mr Babatunde Fashola (SAN) on Tuesday received a cheque donation of N100 Million(750,000 dollars) from the Dangote Group for victims of the July 10 flooding in Lagos with its Group Chairman, Alhaji Aliko Dangote urging all residents to pay their taxes to the state government regularly.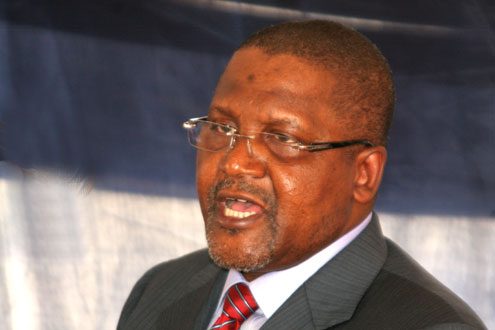 Alhaji Dangote who spoke before he handed over the cheque to Governor Fashola at Lagos House, Marina in company of members of his management team, said his organisation is always willing to pay its taxes because the manifestations of good governance in the State is evident for all to see."With 10 or 12 of you as Governors working so hard, Nigeria will change for the better. We are happy with you and always happy to pay our taxes because we are seeing it work and not embezzled''."A lot of Governors are copying what you are doing.
The job of Government is to facilitate, it has no factories, what they have is taxes. People have to pay taxes so that government can build what it promised the larger society'', Alhaji Dangote said.The Governor, Mr Babatunde Fashola (SAN) in his response explained that against the backdrop of global warming and climate change disasters are bound to happen but that government must be prepared to reduce the human impact and human inconvenience that comes with it.He gave a commitment that government will continue to share information with members of the public so that the more the people become aware about the dangers they themselves inadvertently contribute in terms of how they dispose their refuse, "I think sooner or later we will be able to live through this rather challenging weather condition without too much human impact''.
He explained that at the State's Resettlement Centre put in place after the last flood of last year, the children in the centre were able to continue their education while the adults went to work and the hospital located within the centre ran for over a year.Governor Fashola added that it may be difficult to expect that Lagos may never experience the kind of rainfall that it witnessed on July 10 again because globally the society has taken too much from nature which has made the damage irreversible."The damage has been done already, what we can do is now is to develop strategies to adapt and mitigate damage. Tomorrow (Wednesday), we will host a conference of African Mayors to discuss mitigation and adaptation strategies for the impact of global warming and climate change."All over the world, nature is reacting.
We are having extreme weather conditions. Those in arid areas, the desert are facing acute drought. Famine in Somalia and Kenya is as a result of that. Unusual earthquakes are also being experienced in Asia. Even Washington suffered a mild earthquake recently''."Australia and Pakistan people are affected. Lagos got its own dose of the rainfall just as Ibadan did. Europe is going into winter which may be a very bad winter. As managers of the city, our responsibility is to share knowledge with our people to prepare for the worst and hope for the best."In this part of the coastal region, we will see extreme rainfall. Since July 10, we have not had rainfall.
What should have happened over three months happened in one day'', the Governor reiterated.He said government on its own is building more storm drain channels and ensuring that as it approaches the dry season, it will progress more rapidly with the civil work necessary to actualise the plan.Governor Fashola informed that the State has also reordered its budget to allow the Ministry of Environment to respond to the weather conditions more effectively, adding that government is also planning to construct a new resettlement centre in Alimosho in addition to the one in Epe."We have also paid money on compassionate ground to people whose houses are close to the canal whom we have to relocate so that they can get money to rent new apartments and get on with their lives''.
The Lagos State Governor who also thanked the Dangote Group chairman for the kind words he had for the present administration also expressed appreciation for the generous and public spirited nature of Alhaji Aliko Dangote and the Dangote Group."I want to commend it to the generality of Nigerians that the strength of our nation lies in the ability to demonstrate the willingness to give a little more back to the society, to plough back, help those who are vulnerable, weak and infirm.
Their prosperity will be our prosperity'', the Governor noted.Alhaji Aliko Dangote who said the Dangote Group is making the donation in response to a clarion call by the administration for people to assist it also called on well meaning Nigerians both individuals and Corporate organisations to partner with the government to ensure that the government succeeds.Governor Fashola was joined in receiving the Dangote Group by some members of the State Executive Council including the Commissioner for Special Duties, Dr Wale Ahmed, Commissioner for Finance, Mr Tokunboh Abiru, the Special Adviser on Environment, Dr Taofeek Folami and the General Manager of the Lagos State Emergency Management Agency (LASEMA), Dr Femi Oke- Osanyintolu while Alhaji Dangote was accompanied by his top management staffers

Load more