Ace journalist and photographer, Sunmi Smart Cole has joined the elite club of septuagenarians as he clocks 70 on Sunday, 25 September.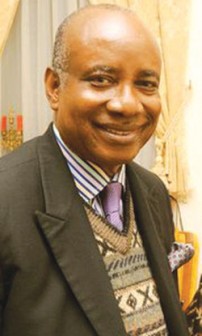 And as part of celebrating the creative genius, on his birthday, a special thanksgiving service will be held at Our Saviour's Church, Tafawa Balewa Square, Lagos and a formal dinner party follows thereafter at Harbour Point, Victoria Island, Lagos.
This was put together by the veteran photographer's Committee of Friends headed by Dr. Ebun Shonaiya.
Speaking on why they have decided to celebrate Smart Cole, a member of the committee told P.M.NEWS that the celebrant has done much for this country through his God-endowed creative talents without placing much emphasis on pecuniary gains.
Also speaking in a telephone chat with P.M.NEWS, the celebrant, Smart Cole said he feels great and has every reason to celebrate his life at 70.
According to him, given his near death experience in 2003, when he had an accident and had to undergo surgery, he cannot but thank God because He kept him alive to see this day in good health.
"I am so happy at this period because I never thought I will still be alive today to witness the remarkable age of 70 after what I went through about eight years ago. I have enjoyed the mercy of God and all thanks must be to Him. That's why this celebration is necessary. I also thank my friends who have taken it upon themselves to put together a celebration in my honour," Smart Cole told P.M.NEWS.
Born on 25 September, 1941 in Port Harcourt, Rivers State to Nigerian-Sierra Leonean parentage, SS Cole, as he is popularly known among his friends and colleagues in the media, is known at home and abroad for his creative versatility and wide range of interests.
Smart Cole's experience and perspectives are vast. His humble beginnings as an architectural draughtsman and jazz aficionado was complemented with his skill as a barber. As way back late 1960, his Yaba, Lagos' barber shop, "Sunmi's Place", was a trend-setting centre for the fashionable Lagos elite.
He is also an environmentalist as a member of 'Friends Of The Earth' and 'The Lagos Horticultural Society'.
In 1983, Smart Cole became the first photo editor of the newly established Guardian newspaper. He was renowned for his black and white works on Sundays, under the "Sunday Portfolio"– a column devoted to his serious photographs with poetic/comical captions.
He was subsequently made the editor of the Guardian's weekly social paper, "Lagos Life". This gave Smart Cole the opportunity to design a newspaper, which reached a high standard both visually and in terms of content.
He was appointed managing editor of the Guardian newspaper group in 1988, and resigned in 1989 to return to full-time photography. The Sunmi Smart-Cole Gallery of Photography (probably the first in Africa) was opened in Yaba, Lagos, in 1990.
Sunmi was subsequently appointed chronicler to the Ministry of Foreign Affairs in 1991, by the Minister Ike Nwachukwu. In 1999, he was appointed chronicler to Cross River State by Governor Donald Duke.
—Funsho Arogundade